Long anticipated, It's A Wrap! has listed a few items for auction on eBay from J.J. Abrams' re-imagined Star Trek film.  As noted last month, Julien's Auctions plans include a summer auction next year at Planet Hollywood Resort and Casino in Las Vegas (see Julien's Auctions Announces Sale of Original Movie Props from J.J. Abrams' Star Trek at Planet Hollywood).
As most collectors know, It's A Wrap liquidated thousands of assets from the Star Trek films and various television series following the large Christie's event.  The majority of these sales were made on eBay, from December 2006 through April of this year.  An incredible resource to review what was sold is the Star Trek Auction Listings Archive.
Currently, there are only four items listed on eBay from the Star Trek film released this year:
Vulcan Timeship 'Wall Mount' Set Dressing
Shuttle Hull Instrument Panel
Shuttle Environmental Control Panel
Riverside Shipyards 'Warp Trail' Bar Chair
All listings can be found on eBay under the username "itsawraphollywood.com":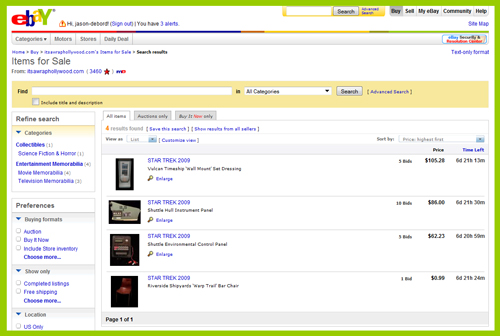 Per the eBay "ME" page, "hundreds of items will be available".
Jason DeBord