Super Auctions is holding an entertainment memorabilia auctions this month which is a liquidation of assets from the Hollywood Entertainment Museum.  Touted as "The Entertainment Auction of the Century", the sale benefits the Media Arts Education for At-Risk Youth.
Collectors can bid on site in Los Angeles at Hollywood Center Studios as well as online via iCollector.com.
Below is a video promoting the event and sharing information about the cause for which funds will be raised.
Hollywood Entertainment Museum Auction from Pristine Visual on Vimeo.
Learn more about Super Auctions at their official website, www.SuperAuctions.com.
The catalogs can be found online at iCollector.com.
Session 1: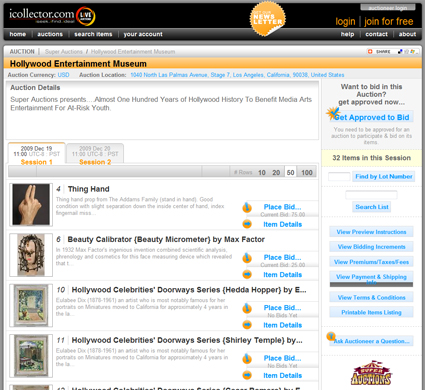 Session 2: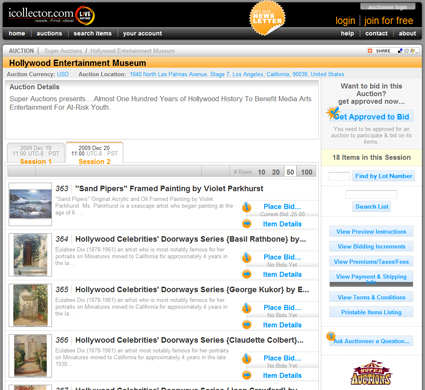 Below is the official press release:
FOR IMMEDIATE RELEASE

Contact: Matt Brown (805) 660-0553
E-mail:   m.brown@superauctions.com

Hollywood Entertainment Museum's 100 Year Collection Up for Auction to Save Education Foundation for At-Risk Youth

Items for Bid Include David Carradine's Harmonica, Frank Sinatra's Wig and Alfred Hitchcock's Diploma, Cap & Gown

Hollywood, CA (December 11, 2009) – The Hollywood Entertainment Museum is offering a historic opportunity that no Movie Fan, Collector, or Film Aficionado will want to miss.  More than 100 years of Hollywood History will be offered to the general public for the first time in an Auction to raise funds for the Hollywood Media Arts Academy, a foundation that inspires and educates high school drop-outs, youth on probation, foster youth and students in need of an alternative.

The collection is being presented by SuperAuctions.com, the world's largest entertainment auctioneers and contains some of the most iconic items in Hollywood history. Some of the collections being made available include Alfred Hitchcock's Honorary Ph.D. from Columbia University including his Cap, Gown, Sash, Photo and Letter;  Roman Armor including swords, helmets and chest plates from Ben-Hur and The Crusaders; The Max Factor Collection which include Frank Sinatra's Wig and Wig Block; Ernie Kovacs' puppets as well as the Nairobi Trio Apparel and props; and items from David Carradine which include a suede coat, shirt, shoes and various props from Kung Fu including his harmonica.

Some of the individual items include ruby red slippers labeled MGM Wardrobe J. Garland, Thing Hand from the Addams Family, the Pazuzu Demon Head from The Exorcist, and hundreds more.  Also available are hundreds of original scripts, photographs, negatives, props, posters, art and awards as well as production and editing equipment, cameras, projectors and wardrobe.

To take part in this once-in-a-life time opportunity, please visit: www.SuperAuctions.com

When:  December 19th & 20th at 11:00AM PST
Where:  Hollywood Center Studios, Sound Stage 7
1040 North Las Palmas Ave, Los Angeles, CA 90038
Preview & Inspection:  December 18th from 10:00 AM to 6:00 PM and December 19th & 20th from 9:00 AM to 11:00 AM PST
Press Only Advance Preview:  Contact Matt Brown (805) 660 – 0553
Registration and Online Bidding:  www.SuperAuctions.com

ABOUT HOLYWOOD ENTERTAINMENT MUSEUM (HEM) (hollywoodmuseum.com)

HEM, Founded in 1996 as a 501(c)3 non-profit, is an exceptional mix of culture and education. Through the Hollywood Media Arts Academy, HEM uses entertainment media as a vehicle to inspire, engage and teach at-risk youth. This unique fusion of education, community and culture grounds HEM in a deep sense of social responsibility and exemplifies the spirit of Los Angeles.

ABOUT SUPER AUCTIONS (superauctions.com)

Super Auctions, Certified and Accredited Auctioneers from Huntington Beach, California, is the World's Largest Entertainment Auction Company who specialize in the Auctioning, Marketing, Consulting and Appraising of Amusement & Entertainment Based Assets and Real Estate. Super Auctions has been exclusively serving the Entertainment Industry sector for more than 16 years.
Jason DeBord