As reported two weeks ago, Grammy Award-winning rock band Coldplay offered memorabilia for auction for their "End of Decade Clearout Sale", with auctions having ended Monday through today, New Year's Eve. The instruments, wardrobe, and other memorabilia items  auctioned on eBay raised over $400,000 for their designated charity, "Kids Company". Read more

This is an update to the Terminator 3 case study article published earlier today.  I had an opportunity to speak with Kevin Ivey of Ivey Slates on the phone, and he was very helpful in providing some additional information, opinion, and clarity following his review of the article about clapperboards used in Terminator 3: Rise of the Machines. Read more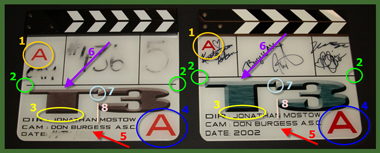 This is another update to the recent articles which articulated some concerns over the authenticity of slates and clapperboards circulating in the marketplace. Previous articles used clapperboards from Quantum of Solace as a case study.  This feature takes a look at clapperboards attributed to Terminator 3: Rise of the Machines ("T3″).
Following a story published on the Original Prop Blog (see Fake 'Star Wars' Movie Prop Blaster Resurfaces on eBay with Elstree Props "Danziger Collection" Certificate of Authenticity), I have been contacted by the current owner who recently listed the prop for sale on eBay, who claims that the prop was previously acquired by him in a transaction with Les Hemstock.  Read more

Two years after making the rounds as a lead story in the mainstream media, the Associated Press today reports that the Supreme Court of New York's Appellate Division ruled that a Star Trek fan does not deserve $7 million dollars in damages as a result being displeased with one of the three items won at the "40 Years of Star Trek" auction held by Christie's.  Read more

This article continues coverage of Superman costumes and costume components offered for sale publicly in the marketplace attributed to use in the Superman films of the 70s-80s starring Christopher Reeve and characterized as "original" and "authentic".
Read more

Auction Cause has a number of items up for auction on eBay from the CBS reality television program, Survivor Samoa. 100% of the final sale price of each item will benefit The Serpentine Project. Read more

This is another update to the articles published this week which articulated some concerns over the authenticity of slates and clapperboards circulating in the marketplace. In the original article, I speculated that what is merely a black dot on the collector-owned Quantum of Solace clapperboards in the marketplace appeared to be a logo of some sort on those clapperboards photographed on set in the "Bond of Set" book for the film.  Read more

Grammy Award-winning rock band Coldplay are selling memorabilia with their "End of Decade Clearout Sale".  The instruments, wardrobe, and other items will be auctioned on eBay December 18-31, 2009, with all proceeds benefiting "Kids Company".  The 52-page catalog became available online today. Read more

The Replica Prop Forum, more commonly referred to simply as "The RPF", has added a new "Screen Used Props" sub forum to their website.  While there has always been a small percentage of talk dedicated to original props and costumes, as well as many topics that would be of interest to both replica and original prop collectors, this is the first time that a special area has been dedicated exclusively to talk about original props on the board.  Read more