Last month, there were a number of mainstream media outlets reporting on a lawsuit filed against Heritage Auction Galleries by a former employee who charges, among other things, that the auction house utilizes a fictitious bidder – "N.P. Gresham" – to participate in bidding in its own auction events.  Much of this coverage was generated by interest in press releases issued by the plaintiff's attorney with charges of a "massive auction scam".  Heritage claims that they are being "terrorized and extorted".
There appear to have been no new developments with this particular story for several weeks, though efforts to publicize Heritage-related lawsuits have been ongoing for some times.  I have in the past received lawsuit-related material via e-mail and mail from anonymous sources.
As an example, I received this parcel in the mail in November 2008 with well-organized copies of court cases and media reports about various lawsuits:


With the recent reports, this website was sent several press releases that were the genesis of the media coverage which focused on the "shill" (and/or "sham") bidding.
The two press releases issued by plaintiff Gary Hendershott's attorney, Mark Senter, can be found at PR Newswire:
RICO Charges Aimed at Dallas Auction House and Execs, Says Mark Senter

Lawsuit expanded as Montana businessman joins the complaint

DALLAS, Sept. 11 /PRNewswire/ — A racketeering lawsuit aimed at Heritage Auctions and its top executives was expanded Wednesday, when a prominent Montana businessman joined the charges against what has been termed as a "massive auction scam." The suit charges the defendants used a secret, undisclosed shill, or fictitious bidder, at auctions, so winning bidders paid inflated prices.

Defendants in the suit are Gregory J. Rohan; Steve Ivy; James L. Halperin; Marc D. Emory; Paul R. Minshull; Dagmar Byers; and their company, Heritage Auctions, Inc.

Gary Hendershott, an expert in Civil War memorabilia, was joined in the suit by Chris Kortlander, a prominent Montana businessman. Kortlander alleges that he "consigned thousands of individual historical manuscripts and photographs to Heritage," but was deprived of profit because of Heritage's fraudulent and deceptive acts.

Dallas-based Heritage is a well-known auction house, reportedly the third largest behind Sotheby's and Christie's.

Mark Senter, attorney for the plaintiff, charged that "the Heritage defendants use N. P. Gresham, a fake bidder, to rip-off legitimate bidders."

These charges appear to be the latest in a long line of lawsuits filed across the U.S. charging the defendants with fraudulently manipulating auctions. In 1989 the FTC ordered Heritage to pay $1.2 million in restitution to victims of Heritage and Halperin who had paid inflated prices for coins. Forbes magazine reported that on another occasion, an arbitration panel ruled that Heritage must pay $23 million to another plaintiff.

"Texas law strictly and explicitly forbids shill, or fictitious, bidders at auctions, but James Halperin, Heritage's Chairman, admitted in sworn testimony at an injunctive hearing that N. P. Gresham does not exist. Yet Heritage later admitted that N.P. Gresham not only bids at auctions, but that no one outside of Heritage knows who Gresham is," said Senter.

According to the lawsuit, the defendants are in violation of RICO by "secretly bidding in the name of N. P. Gresham at auctions in surreptitious competition with other valid bidders."

Senter explained that using N. P. Gresham as a ghost bidder results in higher prices being paid at auctions by innocent, unknowing bidders. The practice overstates Heritage's ability to effectively get the best prices for items it auctions.

Depositions in the lawsuit are scheduled to begin in the near future.

SOURCE Mark Senter
Heritage Auctions RICO Lawsuit Amended by Hendershott, Says Attorney

DALLAS, Sept. 16 /PRNewswire/ — An amended RICO lawsuit against Heritage Auctions and its executives was filed September 14 by plaintiff Gary Hendershott, an expert in Civil War memorabilia.

The amendment expands the charges of fraud and RICO violations against the Dallas-based auction house, reportedly the nation's third largest. The original suit asserts that Heritage uses a shill or fake bidder concealed under the name of N.P. Gresham to defraud other bidders by increasing auction prices.

Hendershott was joined in the lawsuit last week by Chris Kortlander, a prominent Montana businessman.

The amended lawsuit sets forth in detail the tactics used by Heritage at its auctions to obtain an unfair advantage in bidding against unsuspecting bidders, including shill bidding and using insider information.

"Regardless of what Heritage executives are now saying, I never bid under the name of N. P. Gresham. I only learned the true identity of Gresham in January of this year, when Jim Halperin, co-chair of Heritage, admitted it in open court," said Hendershott, of Little Rock, Arkansas.

"Further, Heritage executives have admitted that the identity of N.P. Gresham was never disclosed to any bidder at these various auctions," Hendershott said. "In a letter to the Consumer Credit Commissioner for the State of Texas, Heritage's legal counsel stated, 'No external party is ever aware that N. P. Gresham is a pseudonym for Heritage.' "

Hendershott's attorney, Mark Senter, noted, "Jim Halperin has testified that N.P. Gresham is fictitious, and Heritage has admitted it hid Gresham's identity from all outside bidders. Using a shill bidder like Gresham to bid up auction items is a violation of the RICO statutes and the laws governing Texas auctions.

"It's obvious Heritage doesn't want N.P. Gresham revealed, as they've tried to permanently seal the court records twice, have bullied and threatened the Dallas media, and yesterday, threatened to sue me and my clients for filing the RICO lawsuit," Senter said.

"Heritage is wrong to use a secret, shill bidder to drive up auction bids," said Hendershott. "We hope others who think they have been defrauded by this practice will come forward."

Kortlander alleges that Heritage failed to sell his extensive collection of historical items related to Custer's Last Stand, and has not returned them in more than two years.

"In April 2007, I consigned to Heritage my extensive collection of historical items, including the Town of Garryowen, Montana, on the site of the Custer Battlefield at the Battle of the Little Big Horn, as well as thousands of items in the Custer Family Collection. Heritage has not sold the collection and refuses to account for it, or return it to me," Kortlander said.

Hendershott's RICO suit was originally filed in May 2009 in Texas District Court in Dallas, and Kortlander's suit was filed in Billings, Montana, in April 2009. Kortlander joined the RICO lawsuit in Dallas September 9.

SOURCE Mark Senter
Antique Week's Eric Rodenberg published the following story, which features quotes from the President of Heritage Auction Galleries:
Heritage: Lawsuit contains lurid claims by ex-employee

DALLAS – Owners of the world's third largest auction house, Heritage Auctions, maintain they are being "terrorized and extorted" by a former employee who charges the Texas company routinely used a shill bidder to defraud customers.

"We are not going to let him terrorize and extort us," Heritage president and owner Greg Rohan said. "Heritage has a reputation to maintain. We will go to the ends of the earth to defend it."

That former employee, Gary Hendershott, filed a lawsuit in May alleging that Heritage used a shill bidder to "bid up" auction prices. Hendershott, 55, managed and coordinated the cataloging for Civil War and other militaria inventory for Heritage between April 2007 and April 2008. Immediately upon leaving the company, Hendershott filed the suit in federal court charging that Heritage owed him $1.6 million in commissions. Specifically, Hendershott alleges that he directly suffered as a result of Heritage's criminal acts which violates the Racketeer Influenced and Corrupt Organizations Act (RICO).

At Heritage, Rohan paints a different portrait: "When he left as an employee he owed us well over $1 million … in advances, loans and some unprofitable deals he made. We don't like to sue … we will only sue as a last resort. We were trying to negotiate a settlement. His reaction was to sue us.

"The lurid claims and the salacious headlines he has generated are absurd … he has manufactured nonexistent 'wrongs' to try to gain leverage and renegotiate his debt."

Specifically, Hendershott alleges that Heritage created a fictitious entity – N.P. Gresham – to bid up the company's online auction. Hendershott claims he first discovered the Gresham pseudonym in late summer or early fall of 2007 when internal documents were left on his desk. He said he noticed that "Gresham" was bidding in some of his own auctions.

Rohan does not deny the existence of an N.P. Gresham account. Heritage not only operates as a typical auction house, he said, but also has a direct purchase and sale division within the company. The Gresham account was often used to place bids on items at their auction prior to opening bidding. "We often sent around notices to our various divisions informing them they could use the account," he said.

That division would speculate on the market, like any other bidder, Rohan said. "Sometimes, just like everyone else, we lost money. Just like everyone else we wrote checks out to the auction house."

Once the auction began however, Heritage did not "bid up" items or withdraw bids, Rohan said. N.P. is a common phrase found among coin collectors, where Heritage has its origins, meaning "New Purchase."

"In the rare coin world, people are always asking, 'let me see your NPs,' what you have recently bought. Gresham, I'm not sure where that came from – that was in place before I came here 23 years ago."

Rohan said the function of the pseudonym was known among all Heritage employees. "The pseudonym is for Heritage's internal use only and identifies the affiliate that buys and sells inventory for its own account," Heritage attorneys stated in court.

In addition, Rohan maintained that Heritage discloses its interest at the back of auction catalogs and online in its listed terms and conditions. Those terms read: "The Auctioneer or its affiliates may consign items to be sold in the Auction, and may bid on those lots or any other lots."

"We are the most transparent auction company there is," Rohan says. "The claims made by Hendershott and his attorney are a complete distortion of the facts and the law."

Although three different judges have ordered the case into arbitration, Rohan said Hendershott and his attorney, Mark S. Senter, have failed to comply. Shortly after Hendershott's attorney Mark S. Senter sent press releases to media outlets throughout the United States, Heritage attorneys charged in court the suit was without merit.

Questioning the ethical propriety of circulating press releases in regards to a present lawsuit, Heritage attorneys stated "Senter grossly misstated facts not alleged in Plaintiff's pleading … Simply put, Plaintiffs have used this Court and the legal process as a medium to harass and defame Heritage in the public."

Contact: (800) 872-6467

www.ha.com

Eric C. Rodenberg

10/5/2009
Sam Merten of the Dallas Observer published a substantive article on these issues in early September (see "Lawsuit Claims Heritage Auction Galleries Uses Fake Bidder to Manipulate Auctions"):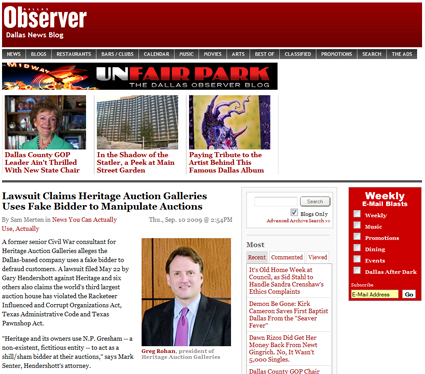 This report includes an interview with Greg Rohan, President of Heritage, in which he defends the use of the "N.P. Gresham" bidding account.  An excerpt:
Heritage has denied the accusations in court, and while company president Greg Rohan acknowledges that his company has been using the pseudonym N.P. Gresham for approximately 25 years to place bids in its own auctions as well as others, he stresses that there's nothing "sinister" about Heritage's bidding practices.

"The claims made by Hendershott are a complete distortion of the facts and the law," Rohan says.

Rohan says an accounting clerk developed the fake name when Heritage needed a mechanism for invoicing between its two companies — the auction house and its direct purchase and sale company — and it uses two account numbers for Gresham to keep some transactions separate "for internal reporting reasons." He claims the N.P. stands for "new purchase" but doesn't know the significance of Gresham.

"The characterization fake bidder is entirely Hendershott's and his attorneys'," he says, "and is utterly false and misleading."

Although Rohan argues that while it's "perfectly legal" for an auction house or its affiliates to bid in its own auctions without disclosure, Heritage discloses its interest at the back of auction catalogs and online in its listed terms and conditions. The terms read: "The Auctioneer or its affiliates may consign items to be sold in the Auction, and may bid on those lots or any other lots."

"There's nothing illegal or unethical about us placing a bid prior to the auction starting," Rohan says, adding that Heritage doesn't compete or bid during auctions.
Auction practices do differ state to state, as illustrated in this excerpt from the same article quoting Toby Usnik, head of communications for Christie's:
Christie's wouldn't bid as often as Heritage does — Rohan claims it bids on "a lot of things" — and wouldn't use a pseudonym because "that would be illegal," according to the New York City Department of Consumer Affairs, says Usnik. "You would be bidding up the price of something artificially, and others in the auction room who are competing for it would not know that it's you who is bidding or that you have a special interest in it."
Also referenced in the Dallas Observer story is the possible news coverage of the lawsuit by WFAA-TV, who previously produced news broadcasts about Heritage regarding the issue with L.A. Prop and Wardrobe items consigned to previous auctions (see WFAA Television News Report on Heritage Auction Galleries, L.A. Prop and Wardrobe: "Systematic Misrepresentation of Provenance"):
Rohan says Hendershott's attorney rewrote the lawsuit with "salacious headlines" in order to attract media attention and put pressure on Heritage to settle. When WFAA-Channel 8 became interested in the case, Rohan admits he met with two executives from the station in an attempt to quash a potential story about it.

"If a media outlet was irresponsible and defamed us, there's no amount of money that we wouldn't spend to clean their clock because our business is all based on trust," he says. "If somebody ran something that was untrue, if it costs us $10 million, we'd have to spend it because we'd go out of business if people don't trust us. But, I hate spending money on lawyers. I try to use them as a last resort. I try to handle most these things myself."

Senter says the lawsuit has the potential to become a class action suit because so many others were potentially hurt by Heritage, which he calls "the 800-pound gorilla."

"They've kind of put their middle finger up and said, 'Hey, eff you. Come after me. See what you can do,'" he says, and that's exactly what his client intends to do.
Another source with a substantive news story on these issues is Auction Central News (a division of online bidding service LiveAuctioneers LLC), who published a story by Catherine Saunders-Watson in late September (see "Heritage Auctions' co-chairman fires back at former consultant's lawsuit"):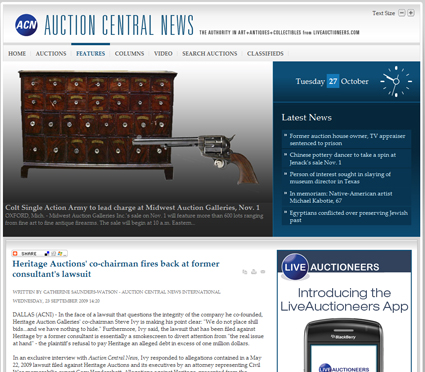 This story features an interview with Heritage Co-Chairman Steve Ivy:
In the face of a lawsuit that questions the integrity of the company he co-founded, Heritage Auction Galleries' co-chairman Steve Ivy is making his point clear: "We do not place shill bids…and we have nothing to hide." Furthermore, Ivy said, the lawsuit that has been filed against Heritage by a former consultant is essentially a smokescreen to divert attention from "the real issue at hand" – the plaintiff's refusal to pay Heritage an alleged debt in excess of one million dollars
More…
Ivy said that prior to, and at the time of, Hendershott's resignation, the former Heritage consultant made no mention of having a grievance or complaint involving "N.P. Gresham," which is an in-house name used to identify bids lodged on behalf of Heritage Art and Collectibles.

"Heritage, and its affiliates, in addition to being the largest collectibles auctioneer in the world, is also one of the largest collectibles dealers (i.e., buyers and sellers) in the world," Ivy explained. "Heritage Auction Galleries is almost unique in that regard within the fine art field, as most fine art auction houses aren't dealers, don't have dealer affiliates, and thus don't bid in their own auctions. Most coin and many collectibles auction firms, however, do bid in their own auctions. The fact that we bid in our own sales is fully disclosed online and in our auction catalogs. We state: 'The Auctioneer or its affiliates may consign items to be sold in the Auction, and may bid on those lots or any other lots.' Even if we didn't fully disclose it – which we do – it would be perfectly legal for an auction house or its affiliates to bid in their own auctions so long as the bid is made with the intention of buying the item.'

"Frankly, it wouldn't be fair to our consignors for us not to bid in our own auction the same amount we would gladly pay for the same item in a competitor's auction," Ivy observed. "Neither Hendershott nor his attorney have offered a scintilla of evidence to support their frivolous shill-bidding claim, and they've grossly mischaracterized testimony in order to gain what they obviously perceive to be a tactical advantage."

Asked where the N.P. Gresham name originated, Ivy replied, "On our client list, when we enter an entity, it asks for a contact person in addition to the company name and address. Probably as far back as 30 years ago when an account was created for Heritage, an employee entered 'N.P Gresham.' N.P. stands for 'New Purchases.' I have no clue why 'Gresham' was chosen. There was never anything covert about it; it's just an internal name to represent new purchases for Heritage. We also used it when we consigned house-owned items to auction. Hundreds of people working at Heritage would know the name 'N.P. Gresham' and what it stands for. If it were ever a secret, as Hendershott suggests, it's one of the worst-kept secrets in history."
The Original Prop Blog has covered the issue of "shill" and "sham" bidding in prior articles:
As noted in prior articles, per my research, "shill" and "sham" are terms sometimes used interchangeably, but there appear to be a variety of circumstances that are fundamentally different.
I have found conflicting information as to the precise definitions of certain terms related to: 1) bids placed by auction houses and/or 2) placed by or on behalf of consignors, sellers, and 3) anyone who might benefit from a high price realized or 4) bids placed not with an intention to win the auction but to advance the bid amount.
The following are my best approximations of definitions of those terms:
A "chandelier" or "sham" bid (also referred to as "consecutive bidding"), as I understand it, is made by the auction house to bid up the price on an item with "phantom" (non-existent) bids to meet the seller/consignor's reserve price.
A "shill" bid is a bid made at auction by the seller/consignor (or someone acting for the benefit of the seller/consignor) for purpose of driving the price up beyond the reserve on an item offered at public auction, with no desire to actually win the item with the highest bid.
As noted by Heritage in their release and the interviews, there does not appear to be any evidence of shill bidding by way of specific lots and outcomes – just the revelation that "N.P. Gresham" is an account used to place bids on behalf of the auction house and/or their clients.
However, in considering the statements made by Heritage, and the notion of transparency – for true transparency, in my opinion any bids placed by, for, or on behalf of the auction house and/or any clients should be clearly identified as such by bidder name (i.e. "Heritage Auction House") – rather than a pseudonym that is not immediately identifiable to anyone outside of the employ of Heritage.   The auction house would obviously be more privy to information about each lot, and therefore, the customers of the auction house would be at a disadvantage when in competition for the same lot – more so if they are not aware of those times in which the auction houses is bidding against them on an item.
I will continue to monitor this story for further developments and note them on the official Original Prop Blog Twitter account.
Jason DeBord