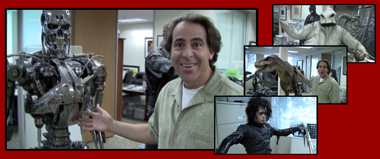 I spent part of the day yesterday at Profiles in History with President & CEO Joe Maddalena, who gave a personal tour and preview of some of the items offered for sale in their upcoming "Hollywood Auction 37" event, to be held at Calabasas Hills, California on October 8th & 9th.
The auction catalog was made available online last week on iCollector (their new online bidding service provider) as well as at ProfilesInHistory.com in PDF format.  The hard copy version arrived at the Profiles offices yesterday and are going out this week.  There may also be a live video feed for remote bidders via iCollector with this auction (TBD).
As noted, it is an impressive assortment of original memorabilia including significant pieces from Stan Winston Studios, all principal props and costumes from the Summer hit sequel, Transformers: Revenge of the Fallen, a number of pieces from the popular Nightmare Before Christmas, and pieces from mainstay franchises such as Star Wars, Indiana Jones, Ghostbusters, Terminator, Star Trek, Back to the Future, Jurassic Park, Batman, Austin Powers, and more.
"LOST" Auction News
Mr. Maddalena also provided an update on the Disney/ABC LOST auction (see Full Original Prop Blog LOST Auction Coverage).  Profiles in History was an exhibitor at the Disney D23 Expo this past weekend to further promote next years auction event.
The following new details were learned in the interview (see "Part 4" below):
The LOST auction will likely be held in June 2010, following the May 2010 Season and Series Finale
The auction will be held in Los Angeles, with a simulcast in Honolulu
A portion of the proceeds of the sale will benefit Hawaiian-based charities (TBA)
Profiles in History will be at the Honolulu International Film Festival March 12th-14th, 2010, along with cast members from LOST
There are plans to make a small example showcase of items available in PDF form on at www.ProfilesInHistory.com later this week to give fans of the show an idea of the kinds of assets that will be available at auction
"Hollywood Auction 37 Video Preview and Tour
Below is a four part series of videos produced at Profiles in History on 09/15/09 about the upcoming auction.
Standard Definition Part 1 of 4 (run time 7:34)
Standard Definition Part 2 of 4 (run time 5:29)
Standard Definition Part 3 of 4 (run time 7:19)
Standard Definition Part 4 of 4 (run time 7:26)
High resolution still photography of items listed for sale in the upcoming auction will be published in a future article.
Special thanks to Profiles in History for advance access to the material and to Mr. Maddalena for taking the time to provide a video tour for readers of the Original Prop Blog.
Jason DeBord