Following a significant amount of mainstream media coverage, 20th Century Props held an auction of its assets July 28th-August 1st, which was managed by Great American Group.  Various reports have surfaced today announcing a follow-up auction of these assets, to be held September 11th-14th by auctioneer Super Auctions.
Full details can be found at SuperAuctions.com: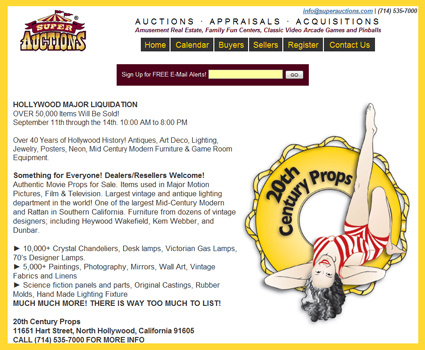 The official press release was issued today, the first day of the auction:
Over 70,000 Hollywood Authentic Movie Props, Antiques, Collectibles To Sell Over 5 Days

HOLLYWOOD, Calif., Sept. 11 /PRNewswire/ — Super Auctions (www.SuperAuctions.com) announces the liquidation of over 70,000 items from 20th Century Props, one of the largest memorabilia and prop houses in the world, according to Robert Storment, CEO of Super Auctions.

The liquidation goes through Monday, September 14, from 10am to 8pm at the 195,000 square foot location of 20th Century Props, 11651 Hart Street in North Hollywood.

"It's like walking into the Smithsonian," said Storment, "so much history, so many unique and conversation pieces we should charge admission."

He explained, "This collection is one of the world's largest accumulations of memorabilia and antiques ever offered at public liquidation. The owner, Harvey Schwarz, had another local firm conduct an auction on a previous date. Unfortunately, there was just too much inventory and the first auction didn't even make a dent. Add to that the fact that literally thousands of rare items were inside vaults and are only now being offered for sale to the public, that makes this an extremely important event."

Storment added, "Unlike most prop houses that use fabricated or artificial items, the majority of the items from 20th Century Props are authentic vintage items dating from the 1940's to the 1990's and appeared in almost any television program or film you can name."

"It's like Hollywood's for sale," commented Storment. "Need your own throne? How about one from Planet of the Apes? Need a chandelier? We have hundreds." He added there are thousands of pieces of art deco, Rattan, mid-century modern and antique furniture, as well as furniture from dozens of vintage designers, including Heywood Wakefield, Kem Webber and Dunbar.

In addition to furniture, there is lighting, jewelry, neon, paintings, photography, posters, wall art, vintage fabrics and linens, game room equipment, science fiction panels, castings, rubber molds, and even pallet racks. "There is something for everyone in this gigantic treasure hunt," said Storment. "And a portion of the proceeds will go to charity."

Headquartered in California, Super Auctions is the worlds largest entertainment auction company. For more information, visit www.SuperAuctions.com or call (714) 535-7000.
Past Original Prop Blog coverage of 20th Century Props can be found here:
Jason DeBord