As with last year's event, I thought I'd share my own personal impressions and experiences about Comic-Con International 2009 in San Diego, to close out my series of articles and features on the event (see San Diego Comic Con 2009).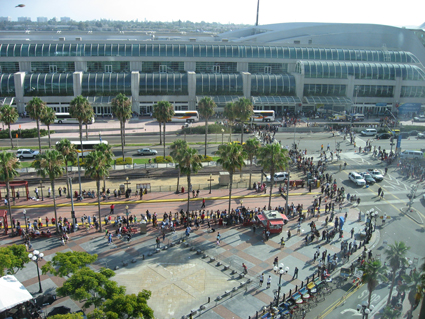 Given that the hobby of collecting original props and costumes from film and television remains relatively small, niche, and often misunderstood, there really are no formal public gatherings for collectors to get together to meet.  Since our pursuit is driven by the sale and trade of such items, it wouldn't be unreasonable to view San Diego Comic Con as an informal annual event for the hobby, in that two of the largest dealers in our hobby – Profiles in History and The Prop Store of London – both now regularly exhibit every year.  As such, their exhibits tend to be magnets for those otherwise in attendance who also partake in the hobby.
This year, I had an opportunity to spend time with representatives with both companies, as well as PropWorx (as an attendee, not an exhibitor) and fellow collectors to report on the latest news and upcoming events.
There is so much to do at Comic Con, that I limited my coverage strictly to areas of direct interest to original prop collectors.  There are a number of professional and amateur organizations that have done a spectacular job covering all areas of interest and perspective otherwise, most notably covering the studios and news about upcoming movies and television programs.  Every year, the influence of the studios on the convention can be felt more and more.
Original Props on Exhibit
There were a number of original props and costumes on display throughout the exhibit hall.  This gives great exposure to the question of "what happens to props and costumes after a production is wrapped?"  I took photos of a number of the pieces found at the convention, which can be found in the following two articles:
San Diego Comic Con 2009: Original Movie Props on Display in Exhibit Hall
San Diego Comic Con 2009: Original Movie Props on Display by Disney's D23
Disney in particular had a very nice display, in promotion of their upcoming D23 Expo event.
Additionally, Premiere Props had a few pieces on display at the Hard Rock Hotel across the street from the Convention Center from the film, Legion, coming in January 2010.


However, Premiere Props had no formal exhibit space at the actual convention, though I heard from another collector that they had representatives handing out promotional flyers.
Also, Backlot Props was not an exhibitor, though they were present last year.
The Prop Store of London
With their second year as an exhibitor, The Prop Store of London had a much more impressive showing.  Most of the pieces on display were not presented as items for sale, but to attract interest and attention.
Below is a link to the article which includes photos from their exhibit:
San Diego Comic Con 2009: Original Movie Props on Display by The Prop Store of London
Below is a link to the article which hosts video interviews with the Prop Store team:
San Diego Comic Con 2009: Video Interview with The Prop Store of London (Stephen Lane, Brandon Alinger, Tim Lawes, Dan Hill)
There was not any news or announcements to report.  While there appears to be significant competition among Profiles of History and PropWorx for studio deals, such as the LOST auctions, it seems resale continues to be the foundation of the Prop Store business model, along with some direct source sales made available via the PropStore.com website, as opposed to auction events.
While a leader in the among dealers, Prop Store traditionally does not engage in public discussion about hobby-related issues, so the video interview is limited to more of a show and tell format.
PropWorx
Conversely, Alec Peters of PropWorx is very freewheeling in his views and opinions of issues in the hobby.
While not an exhibitor, Alec was in attendance and made time to provide a very substantive interview, which can be found in the following link:
San Diego Comic Con 2009: Video Interview with Alec Peters, PropWorx
As per the interview, the primary announcements with PropWorx is the end of the Battlestar Galactica eBay auctions and Iron Man and Hulk auctions from Marvel Studios next year.
Profiles in History
The primary announcement from Profiles in History at the event was the LOST auction in May 2010.
Per Joe Maddalena, they will be auctioning all of the primary props and costumes from the television series, up to and including 1:1 scale vehicles.   To the benefit of collectors, it is planned to have modest reserves on all lots.  However, some costumes will be sold in episode-specific lots, which would be very prohibitive for the average collector.  The sale will take place in Los Angeles, likely off-site from the Profiles in History offices in order to accommodate the anticipated audience for the auction event.  The studio has not committed to on-air publicity for the auction, but given the mainstream interest in the show and final season, and the track record of Profiles in drumming up "free" publicity in the news, it is very likely that this auction will garner significant interest regardless.
Joe also mentioned off-camera that they anticipate being an exhibitor at the upcoming Disney D23 Expo.
As far as this calendar year goes, Profiles has decided to hold two auctions (one this past March, one coming in October), rather than their usual three auctions (Spring, Summer, Winter).  2010 will open with one of their traditional auction in early Spring followed by the LOST auction in May.
The article below includes photos of the Profiles in History exhibit:
San Diego Comic Con 2009: Original Movie Props on Display by Profiles in History (ABC's LOST Auction Photos)
The second article hosts the video interview with Joe Maddalena:
San Diego Comic Con 2009: Video Interview with Joe Maddalena, Profiles in History (ABC's "LOST" Auction)
While the focus was on the LOST auction, there were other pieces on display as well.  And, in addition to the assets from Transformers, Profiles also plans to have some of the costumes from the G.I. Joe film in their next auction, direct from the studios.  These will include costumes for Snake-Eyes, Stormshadow, and Scarlet.
It is encouraging to see Profiles in History sourcing more and more material from studios and direct sources, rather than collector/dealer consignors, as that mitigates potential issues with provenance and authenticity.
Another Great Event
Overall, Comic Con was an amazing event, and, as always, way too much to see and do.  The only way to be productive is to set some realistic objectives and not be overwhelmed by the amazing array of opportunities to see and participate in a great number of exhibits and programs.
On a personal note, I was honored to have an opportunity to meet Mark Hamill, in that Star Wars was the film that really kindled my interest in genre film and television, way back in 1977.  A portion of this was memorialized in my asking a question about props and the Return of the Jedi production (see Short Interview):

On another note, I've read reports that studios are pressuring Comic Con to relocate from San Diego to Los Angeles, which would be a real shame, in my opinion.  Part of the appeal of the long-running convention, apart from the tradition of being hosted in San Diego, is the atmosphere and character of the city.  Los Angeles is quite simply very different, and the show just wouldn't be the same.  Fortunately, based on updates on the official site, it appears that Comic Con is slated for July 22-25 in San Diego next year.
In closing, thanks to all who took the time to talk with me at the show, and to those readers who enjoyed the Original Prop Blog reporting on the event.
Jason De Bord