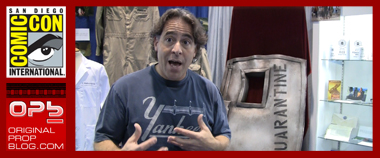 I spent some time at the Profiles in History exhibit at San Diego Comic Con, and was especially interested to learn more details about the recently announced LOST auction, an event planned to coincide with the conclusion of the popular series in May 2010.   The following video interview with Joe Maddalena, President of Profiles in History, offers some great information about the LOST auction, the overall auction schedule of the company over the next year, and other items of interest to hobbyists.
Due to the busy schedule at the end of 2008 and the upcoming LOST auction next Spring, Profiles will only hold two of their traditional auctions this year – the one that already took place this past May and, as already announced, another event in early October.  There will be no December auction this year.
With the ongoing Comic Con coverage, all video was shot 1080p and saved to YouTube at 720p – the video feeds are therefore available in standard and high quality/high definition.  Total running time is approximately 19 minutes.  The video is broken into two parts.
As always, special thanks to Joe for taking the time away from the show to share news and opinions with the readers of the Original Prop Blog.
All 2009 San Diego Comic Con coverage can be found here:
Jason DeBord