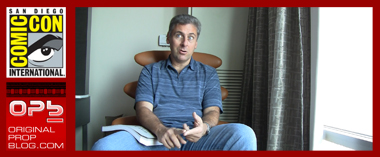 I had an opportunity to meet and chat with Alec Peters, CEO of PropWorx, while attending San Diego Comic Con.  The video interview includes a recap of the Battlestar Galactica auction (past and future), a "state of the hobby" review, talk about competition among other dealers/resellers and auction houses, a discussion of issues in the hobby, and news about the future of PropWorx.
This year, all video was shot 1080p and saved to YouTube at 720p – the video feeds are therefore available in standard and high quality/high definition.  Total running time is approximately 43 minutes.  The video is broken into five parts.
Note: Obviously, the opinions expressed in the interview are those of the subject, not myself or the Original Prop Blog.
Part 1 of 5 (run time 8:54)
Part 2 of 5 (run time 8:51)
Part 3 of 5 (run time 9:06)
Part 4 of 5 (run time 7:24)
Part 5 of 5 (run time 10:02)
Special thanks to Alec for taking the time away from the show to share his opinions and insights with the readers of the Original Prop Blog.
All 2009 San Diego Comic Con coverage can be found here:
Jason DeBord