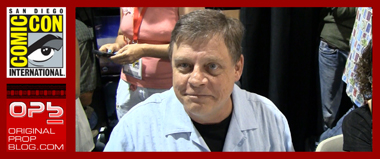 While attending San Diego Comic Con, I had an opportunity to meet and chat with Mark Hamill, who portrayed Luke Skywalker in the original Star Wars trilogy.  Based on an article written last week (see Revisting the Elstree Props "Return of the Jedi" Star Wars Lightsabers: The $50,000 Question (Original or Replica?)), and a series of articles published in 2007 (see Market Watch | Elstree Props | Return of the Jedi), I thought it would be a good opportunity to ask Mr. Hamill a few questions about the original lightsaber props he used in Return of the Jedi, as well as address the long-running controversy as to whether he filmed a scene in which he portrayed his character building his new lightsaber.
Further details and specifics can be found in the aforementioned article, which included photos of a lightsaber prop replica claimed to have been made in 2005 which exactly matches one of the Elstree Props lightsabers characterized as an original made for and used in the 1983 movie in scenes that were filmed and "lost":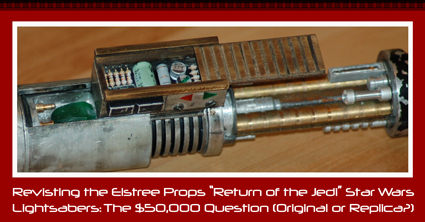 As detailed in the above-referenced article, prior to selling his Elstree Props business early last year, Paul Harrison publicly promoted two unique lightsaber props that resembled those used by Mark Hamill as Luke Skywalker in Return of the Jedi.
However, these two pieces differed significantly from those actually seen on screen in the film in that they were "functional", with moving/extending parts, and a control box that opens up to reveal circuitry and a green gem inside (while the corresponding lightsaber blade was intended to be blue until post production).  The description attached to these pieces was that they were made for a scene in which Mark Hamill as Luke Skywalker is seen constructing his new lightsaber in a cave on Tatooine.
Below is an excerpt describing this lightsaber that was previously published by Paul Harrison on the Elstree Props website (and is still publicly viewable via an Archive.org snapshot):
This is a very unique one-off for the scenes where Luke is in Obi-Wan's hut making his new lightsaber after losing his in the battle with Darth Vader . A Jedi apprentice always bases his own lightsaber on his Jedi masters, which is why this one resembles Obi's more than Vader's.

This is a close-up model built to show the detailing inside. Many parts unlock and slide open! The whole saber can be telescoped shut in one move, with a satisfying whoosh of compressed air rom the pistons inside! One twist and the whole saber locks solid to be hung from the belt.

These scenes were shot, but cut from the movie, and later lost! We hoped they would on the new DVD but they aren't. So this isn't screen-used sadly. But in a way that's better as we get to keep it!
I did speak with Mr. Hamill off camera initially, as I did not want to manipulate the situation so as to solicit a comment without some contemplation, nor make any video or audio recordings without his consent and permission.
I introduced myself, gave a little background about the Original Prop Blog and its objectives, and explained that there has been lightsaber props offered for sale into the marketplace which differ from those that appear on screen in the film, Return of the Jedi.
I did not show Mr. Hamill any photos or video of the Elstree Props pieces, but described them as "functional" lightsabers with moving parts, explained that they extend out revealing the inside workings, and that the control box opens up to reveal circuitry and a green gem inside.
I did not go into any details as to who was offering it for sale nor did I discuss the evidence that I presented in the articles published on the Original Prop Blog as to why there were questions and concerns about the claims of their having been made for and used in the film.
Mr. Hamill stated that he did not recall ever seeing or using a prop lightsaber that matched my description.
I further explained that the narrative attached to these props offered for sale was that they were made for and used in scenes in Return of the Jedi, showing Luke Skywalker building his new lightsaber in a cave on Tatooine.
Mr. Hamill stated that he did not recall ever filming any such scenes.
I asked Mr. Hamill if he would be willing to make a comment about this on camera, and if the video could be published on this website, and he kindly agreed.
It is important to note that my questions pertained to events that took place more than 25 years ago, the atmosphere of the convention was a very distracting one, and Mr. Hamill spoke with many, many fans at that point in the day, so his statements are merely a first blush reaction to events that took place (or did not take place) quite some time ago.
The following video is made available here merely as a modern day account of Mr. Hamill's recollections of filming the third Star Wars film in the early 80s.
I would like to thank Mr. Hamill for taking the time to talk with me and share some information with the readers of the Original Prop Blog.  It was truly a pleasure to meet him.
Jason DeBord