Following legal battles in both the United States and the United Kingdom over the sale unlicensed Stormtrooper helmets – which resulted in both Andrew Ainsworth's Shepperton Design Studios and George Lucas' Lucasfilm Ltd. claiming victory – Ainsworth's SDS today announced the sale of "E11 Blasters", that boast "all the features of the most complicated blaster used in ANH".
This move into an entirely new area of unlicensed products based on props used in Star Wars: A New Hope may provoke further legal action from Lucasfilm, as SDS moves from helmets and armor – which Mr. Ainsworth had a role in developing for the first film – to props and weapons which, to my knowledge, he had nothing to do with whatsoever. It will be interesting to see if LFL will continue to attempt to protect their copyrighted and trademarked material, especially in light of the given circumstances.
The basis of the legal argument put forth by Shepperton Design Studio in the prior legal battles was based on his role in the development of the Stormtrooper helmet and other helmets used in the first film back in 1976. However, in reviewing the High Court ruling by Justice Mann, the judge made several statements consistent with the following:
I do not accept Mr Ainsworth's evidence on this point. I think that his factual case is born of a combination of loss of recollection over time, and his propensity to claim credit for greater creativity than he in fact demonstrated.
Below is an archive of the e-mail received from Shepperton Design Studios today announcing their "Ultimate Blaster":

While the words "Star Wars" and "Stormtrooper" do not appear in the SDS promotional e-mail or on their website, the appropriate code words are employed:
"ANH" is an acronym for "A New Hope", AKA Star Wars: Episode IV
"Blaster" is the term used for pistols and rifles used in the Star Wars franchise
"E11" is the type of Stomtrooper blaster used as a sidearm
The Stormtrooper blaster props used in Star Wars: A New Hope were based on customized, "real world" vintage Sterling submachine guns and other found parts. More details can be found HERE. In any event, to sci-fi fans, it is a unique and instantly recognizable prop exclusively associated with the Star Wars films.
As is their current policy with helmet and armor replicas, SDS ships this and other products to all countries except for the United States.
Below is the statement from the SDS legal team which is currently published on the sdsprops.com website:

Also of interest is the prospect of UK-based sales given the limitations/restrictions on the sale of imitation firearms. As a point of reference, replica prop firearms sold on the Prop Store of London website include the following notice/disclaimer:
Due to recent legislation this prop is only available for UK export, unless it can be proven that the prop will only be used in licensed re-enactments, museums, galleries or re-used in television and film productions
More details about the Shepperton Design Studios and Lucasfilm Ltd. legal battles can be found here: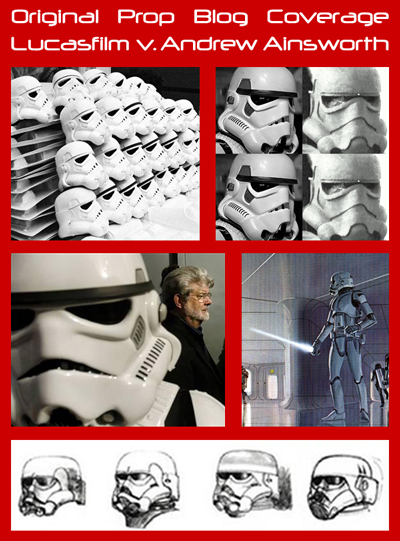 More details about restrictions and limitations on the sale of deactivated and imitation firearms in the UK can be found here:
Jason DeBord