This is the next in a series of more comprehensive profiles of the original props, and the next piece to be showcased a hero Ruger P90 used in two films – by Arnold Schwarzenegger as Harry Tasker in True Lies (1994) as well as for publicity photography done with Antonio Banderas as El Mariachi in Desperado (1995).
Harry Tasker Hero Ruger P90 Pistol, True Lies (1994)
El Mariachi Ruger P90 Pistol [Publicity], Desperado (1995)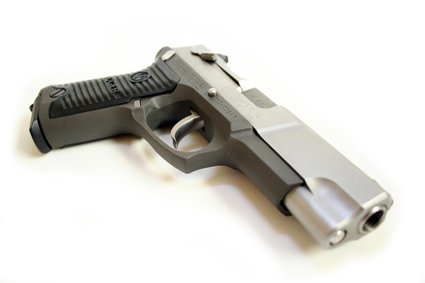 Note: Most images throughout the article can be clicked on for higher resolution versions
Note: Details about the original acquisition of this piece can be found here: Stembridge Auction Report, Part 8: Hero Pistol – True Lies

Dual Use Props
This is a very special piece, in that it has been determined to have been used in the production of two great action films, both True Lies and Desperado.
Background: True Lies
True Lies (1994) is an action film starring Arnold Schwarzenegger as an Omega Sector secret agent leading a double life. Another collaboration between Schwarzenegger and director James Cameron following Terminator 2: Judgment Day, this film was a remake adaptation of the 1991 French film La Totale!.
Background: Desperado
Desperado (1995) was a sequel/remake of the Spanish language Robert Rodriguez film, El Mariachi (1992), both starring Antonio Banderas as El Mariachi. The action-heavy film helped to introduce Banderas and Salma Hayek to American audiences and featured remarkable action sequences with extensive gunplay.
Background: Stembridge Gun Rentals

Stembridge Gun Rentals of Hollywood, California, was founded in 1916 by James Syndey Stembridge in conjunction with Cecil B. DeMille. This business was founded to provide firearms and specialist weapons handlers (or "armorers") to the motion picture industry for use in film and later, television.
At its height at the end of World War I, the armory included more than 10,000 firearms.
In addition to renting firearms (which were eventually converted to fire blanks), Stembridge also produced custom weapons for use in film and television.
Circa 1999, Stembridge closed its operations and a significant portion of the collection was purchased by Robert Petersen of Petersen Publishing. He intended to create a firearms museum in Los Angeles, but the project did not reach fruition. Following his death, the collection was made available for sale at public auction by Little John's Auction Service in 2007 (see related articles).
Stembridge Gun Rentals is still in existence in different form and owned and operated by Syd Stembridge, grand-nephew of the founder.
The Harry Tasker/El Mariachi Ruger P90 Pistol
The Ruger P90 pictured below was a real firearm converted to blank fire and used by Arnold Schwarzenegger in publicity and principal photography for True Lies as well as by Antonio Banderas for publicity-only for the film Desperado. Chrome versions of the same style pistol were employed on set from principal photography of Desperado.








Provenance & Authenticity
Provenance linking this weapon to both True Lies and Desperado includes copies of the original Stembridge rental agreements to both productions.

Also included is an assortment of other documents including an inventory list produced at the time of the sale of "The Stembridge Collection" to Robert Peterson of Peterson Publishing, a detailed letter for the weapon about the March 1999 inventory of the weapons and details specific to the history of the piece as it related to True Lies from J.R. La Rue (Chief Consultant, Carter Mountain Consulting Agency).
Collateral from the Little John's Auction Service "World Famous Stembridge Collection" auction event from which it was acquired, includes asset tags, event catalog, receipts, and other documentation.
The Stembridge rental agreements include copies for "El Mariachi 2 Photo Stills", though this piece was not used in the film production and principal photography, so is not seen on screen. The pair of pistols used extensively in the film are in fact stainless steel versions of the same model weapon.
With regards to the use of this piece in True Lies, it has been confirmed that the one-sheet poster illustration was modeled from a photograph of this weapon, with two digits in the serial number transposed (no such serial number otherwise exists):

The serial number on the pistol is: 660-00947
The serial number on the poster is: 640-00967
The second "6″ and "4″ on the firearm are switched on the poster. It appears that it was changed intentionally for legal or other reasons.
Per the rental agreements, this is one of a number of Ruger P90s rented to the production at varying times, though in at least one instance, it was shipped with only one other which was designated "Back-Up", making this the primary for that period. As many as four and five at a time were rented during other periods.
DVD Publicity Material
Both True Lies and Desperado prominently feature this style pistol on their respective DVDs. If anyone has a high resolution scan/negative of the Desperado image, please contact me, as it may have a matching serial number.


This same image also appears (flipped) in the DVD main onscreen menu:

Desperado Publicity Stills










True Lies Publicity & Screencaptures


















Note: The actual property depicted on this page ARE NOT assets of Original Prop Blog, LLC
Note: All original photos and descriptions are copyright Original Prop Blog, LLC – please contact me for permission to use
Jason De Bord