As noted last month (see Live Event Catalog Available Online), the online PDF version of the catalog for the second Battlestar Galactica auction event has been made available for this month's auction in Pasadena, May 8th-10th.  Collectors started receiving the print edition in the mail in the past week or so, and I received a comp copy from PropWorx, so I thought I'd share my observations, as done with the first catalog published in January.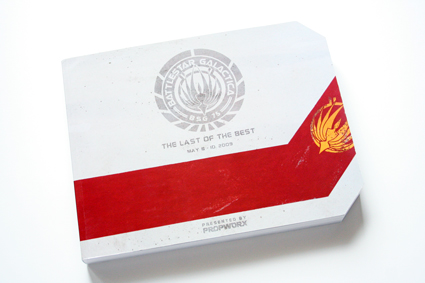 While the first catalog published by PropWorx was very impressive, this one improves on that accomplishment with some evolutionary enhancements.
Below is a side-by-side comparison of new and old:

As with the last catalog, outside of the auction event itself, these books serve as excellent keepsakes for Battlestar Galactica fans, and serve as a great coffee table-style books for those who admire original props, costumes, and other assets.
My biggest criticism of the first catalog with the cover design (a little uninspired) and the thin cover stock (which was prone to dents/scratches/fingerprint marks).
The cover on this second catalog is greatly improved all around.  A more vibrant and stylistic cover design, thick card stock, and more durable (and less prone to marks/scuffs).
The interior pages also appear to exhibit less bleed through of the images from the reverse side, so that is an improvement on overall appearance.




This new catalog also clocks in at 380 pages (compared with 320 last time).  There are also more lots – 960 compared with 800 last time.
As with the original catalog, it includes beautiful photography, with many full bleed two-page spreads that showcase some of the high end ships and sets.


The event itself is scheduled for next week, with the live event held at the Pasadena Convention Center, May 8th-10th.
I would recommend that collectors intending to participate in the auction to investigate the shipping and handling costs prior to bidding (this was an issue with the first auction, and I did not find details in the catalog or at the Auction Network website).
The print edition can be purchased for $35 here:  LINK
For more details, go to BattleStarProps.com.
Collectors can register to bid as well as watch the event live online at Auction Network.com.
Related articles can be found at Auction Event: Propworx (Battlestar Galactica).
Jason De Bord