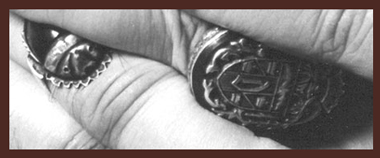 As noted last week (see Debate & Analysis…), there was a significant amount of discussion and debate with regards to the provenance and history of the famous "Dracula" ring that is one of the highlights of the Forry Ackerman estate, to be auctioned by Profiles in History on April 30 and May 1 as part of their "Hollywood Auction 35″ and Hollywood Auction 36".
One of those individuals that was skeptical about the piece has changed his opinion following the analysis published last week.
Ron Magid, the collector who claims to have personally made a casting of Mr. Ackerman's ring in the early 1980s, previously expressed concerns that his replica casting is discrepant with the ring offered for sale by Profiles in History.
Below is the sample photo of the replica claimed to be a direct casting of the original ring:

Mr. Magid also claimed that he recollected that the band of the ring was broken in the back, so as to be squeezed for sizing.  However, his band is different from what he described – he recollects using a different style band for his replica casting.
Mr. Magid has contacted me today with a request to publish his revised views on the ring offered for sale in the Ackerman Estate sale:
—–Original Message—–
From: Ron Magid
Sent: Thursday, April 16, 2009 9:47 PM
To: Jason De Bord
Subject: Forry Dracula ring
Hi Jason,

After studying your blog, I felt compelled to re-examine my concerns regarding Forry's Dracula ring.

What can I say? I must be getting old. My recollection was completely wrong.

I sent the following email to Joe Maddalena – feel free to post any or all of it on your blog.

Cheers,

Ron

—–Original Message—–
From: Ron Magid
To: Joe Maddalena
Sent: Apr 17, 2009 1:30 PM
Subject: Forry's Lugosi Dracula ring

Dear Joe,

Taxes and family prevented me from making a careful study of your excellent photos and analysis of Forry's Dracula ring until today.

Now that I have done so, I agree that the ring you are auctioning is the correct one owned by Forry and worn by John Carradine and Bela Lugosi as Dracula.

Given how certain I was in my concerns about Forry's Dracula ring, it is humbling to realize that my recollection of the ring was so wrong. I plan to convey my sincere and complete reversal on the issue of the ring's authenticity to Joe Moe, Kevin Burns etc in person.

I wish you great success in the upcoming sale, and look forward to seeing you then.

Best,

Ron
Thanks to Ron for taking the time to clarify his views on the ring.
Jason De Bord