Propworx has today listed on eBay nearly 200 assets from the Battlestar Galactica series, which are scheduled to end Monday, following the live event and activities this weekend in Pasadena. Each of these listings start at $0.99 with no reserve.
The auctions are listed under the username propworx and can be accessible via the link below: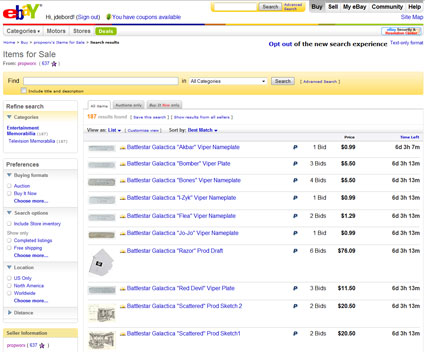 Included in the auction description are some details about the studio Certificates of Authenticity to be issued by Propworx on behalf of NBC Universal:
Every item is accompanied by a Certificate of Authenticity personally signed by Alec Peters, CEO of Propworx and Kurt Ford of NBC/Universal. Each certificate is tied to the particular item by a tamper-proof, individually numbered BSG hologram. The hologram is in two parts, one of which is attached to the prop, the other which is attached to the COA, so the two items can never be sold separately. Fabric items, such as costumes, have the hologram attached to a specially designed tag which the hologram is attached to.
As noted, the live auction will take place at the Pasadena Convention Center January 17-18, with online bidding available via the Auction Network.
Note that while the items that are part of the live auction are accessed a 20% buyer's premium on the price realized, the eBay offerings appear to be free of any premium beyond the winning bid amount.
All details can be found at the official site, BattlestarProps.com.
Below are some YouTube videos from Auction Network about the live auction event:
Jason De Bord