I recently came across a blog post about an "original prop Luke lightsaber" from Star Wars on display at the National Firearms Museum at the National Rifle Association of America (NRA) headquarters in Fairfax, Virginia. Upon researching this piece, I found a number of questions about the authenticity of the prop that I have yet to resolve in the favor of its attribution.
Below are the comments and photo from the blog, jnhadventures:
It was guns, guns, and more guns! And…lightsabers? Yes there was an original prop Luke lightsaber on display. I had no idea this qualified you for membership into the NRA. The museum we went through was actually really cool and a fantastic history on weapons and America. They had everything from a matchlock rifle that came over on the Mayflower, to Revolutionary War through Gulf War, old west, hunting, and police weapons. They even had a huge display of an actual working Coney Island target 'arcade'. I can't believe I'm saying this but if you are ever in Fairfax, go see the NRA museum!
The tag attached to the prop appears to read:
"LOT 367"

"ELLIS PROPS AUCTION"

"DAY 1"

"REMARKETING ASSOCIATES INC"

"(888) 345-SOLD"
As seen is a close-up of the auction tag:

Below is an old AP story about the Ellis Props liquidation sale by Remarketing Associates in June of 2000 – referencing a Darth Vader lightsaber from Star Wars and noting their inability to successfully authenticate all items:
Hollywood Items up for Auction
KAREN SANTOS, Associated Press Writer
AP Online
06-08-2000

UNIVERSAL CITY, Calif. (AP) — Hundreds of thousands of items used in film and television productions went on the auction block Thursday as the oldest prop house in Hollywood began a five-day sale of its million-item inventory.

Ellis Props & Graphics is closing after 92 years in business because rentals are declining as film and TV production increasingly leaves Los Angeles, said Keith Burns, a consultant for auction organizer Remarketing Associates.

High-profile items in the auction included a life preserver used in "Titanic" and one of Darth Vader's light sabers from "Star Wars."

Other items recalled decades of Saturday matinees: assorted skeletons and boxes of bones, an electric chair, a Radio Flyer wagon, a fake buffalo on wheels, patrol car light bars, ship anchors, a "plasma ray gun" and assorted drums, mummies and Army canteens.

The bulk of the offerings was much more ordinary: salt shakers, books, canes, costume jewelry, bicycles, eyeglasses, typewriters, grandfather clocks and suitcases.

About 60 people bid in person at the Universal Hilton and many others took part online during the auction's first day.

The vast collection was acquired beginning in 1908, when a pawn shop, Ellis Mercantile, began renting merchandise to early filmmakers. According to Ellis Props, it began when a studio employee wanted to buy a glass eye. The pawn shop decided to rent it in case the owner returned, and it continued the practice with other items.

"The props are irresistible, you really feel like you want to make a movie," said Susan Zatarain, who went to a preview Wednesday in the dim and dusty building in search of posters or anything else "that strikes me as being interesting."

Other prop houses, including History for Hire and Disney Imagineering, sent buyers to the auction.

An antique phone sold for $3,800, and Laverne's suitcase from the "Laverne and Shirley" show sold for $500.

The nine-barrel Gatling gun used by Clint Eastwood in "The Outlaw Josey Wales" is expected to sell for more than $35,000, Burns said.

Whether or not all the items were actually used in movies or TV productions could not be authenticated because some of the records were destroyed by a previous owner, said Jeri Dubner of Remarketing Associates. But she said she didn't expect that to hurt sales, saying, "a lot of it has memorabilia value."

——

On The Net: http://www.livebid.amazon.com

www.ellisprops.com
Luke's lightsaber from Star Wars: A New Hope is definitely one of the most replicated props made by fans of the movie, due to the popularity of the film and the fact that the base piece of the prop is a "found" or "off-the-shelf" piece.  Luke's lightsaber in A New Hope and The Empire Strikes Back was a customized vintage flashgun from a vintage Graflex camera circa the 1940s.
For an excellent overview of this prop, reference the Parts of Star Wars website HERE: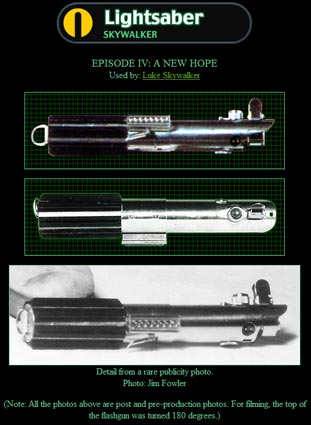 As you will see in that resource website article, the flashgun was customized for the film via removal of the "dish" at the top, and the addition of the following parts:
1) A D-Ring attached to the bottom with a screw (to facilitate hanging from the belt)
2) An LED bubble lens from a vintage calculator inserted into the clamp
3) "T-Track" grips affixed evenly around the sides to serve as grips
The Ellis Props lightsaber does not appear to have any of these customizations.  More, the Ellis Props flashgun is the wrong size – accommodating only two D-Cell batteries rather than three (note it is significantly shorter in overall length).
Below is a photo of a vintage three D-Cell Graflex flash gun with original box:

Below is the Ellis Props Luke Skywalker lightsaber from the photo of the prop on display at the National Firearms Museum:

Below is the publicity photo supplied to Parts of Star Wars by Jim Fowler of the original A New Hope lightsaber as seen next to Mark Hamil's foot:

Below is the same photo highlighting those parts added to the Graflex flash gun to customize it and transform it into a "lightsaber":

In short, there does not appear to be any evidence, based on the photo, of the Ellis Props lightsaber being anything other than a vintage Graflex flashgun.  More, I have found no evidence of Ellis Props having played any role in supplying props to the production of the first Star Wars film.
The following is a partial transcript from a CNN broadcast on 06/06/00 – there is no reference to Star Wars props, but comments that inventory available for sale that includes vintage camera equipment:
Aired June 6, 2000 – 4:30 p.m. ET

THIS IS A RUSH TRANSCRIPT. THIS COPY MAY NOT BE IN ITS FINAL FORM AND MAY BE UPDATED.

JIM MORET, HOST: Hi, everyone. I'm Jim Moret in Hollywood. Laurin Sydney is off today.

We're reporting live today from the Ellis Prop House, one of the oldest prop houses in Hollywood. This is where much of Hollywood history resides and beginning on Thursday and lasting through Monday, it can all be yours, because it is being auctioned live. For those of you who want to bid online, you can do so at livebid.amazon.com.

MORET: There are plenty of things worth preserving here at Ellis Prop House. I don't know if this is among them, but this is the difference between men and women, because men always go for this stuff.

Gloria Hillard reports on this place that has been around a little bit longer than Hollywood.

(BEGIN VIDEOTAPE)

GLORIA HILLARD, CNN CORRESPONDENT (voice-over): There's more silver than in grandma's attic, more old luggage than you'll find in a garage. There are cannons, cigar store Indians, canoes, and cameras — fake cameras and real studio TV cameras from the '50s.

KEITH BURNS, MOTION PICTURE ARCHIVIST: Far cry from what's being used today on the set.

HILLARD: Ellis Prop House, which has been providing props for television and film studios for more than 90 years, is closing down. Everything is going on the auction block, in Hollywood and online, starting June 8.

Ellis is actually the history of Hollywood.

HILLARD: Now, for people who watch the background in a movie more than the stars, you might recognize this baby carriage from "The Untouchables" with Kevin Costner.

BURNS: This is a custom-made baby carriage, made to look like some 1920s baby carriage. It was specially constructed. And we expect this to go for some few thousands of dollars.

HILLARD: And when are two trash can lids worth a few hundred dollars? BURNS: When you put handles on the back and you star Kevin Costner in the film "Waterworld."

HILLARD: These shields are worth a lot more.

BURNS: The sort of cow-hide shields were used in the Charlton Heston world famous Cecil B. Demille (ph) film, "The Ten Commandments."

HILLARD: So was this wheelbarrow. Basically, there are two kinds of movie props — those custom made as props for a film and original items that have vintage or antique value — for instance, this men's dresser set from 1910.

BURNS: So it has double value. It's worth money as an antique and that little extra special because it was from "Titanic."

HILLARD: There are more than a million items for sale, from hundreds of TV shows and movies.

BURNS: Well, this is from "Star Trek" the movie, it's a great log book from the "Star Trek" era.

HILLARD: Along with the starring props, there are thousand of extras, from dishes to pay phones, rotary phones before there was voice mail, parking meters, to remind you of when you could park for an hour for a nickel. And who wants to be a millionaire with this fake ransom money? There's a plastic horse with rubber guns.

BURNS: The star had the real gun, all the bad guys and the good guys, they all had plastic or rubber guns.

HILLARD: Remember, the stars got the real guns.

BURNS: There is also guns here used by Tex Ritter and Clint Eastwood.

Indeed, the Hollywood prop house is the end of an era.

HILLARD: Think of it as Hollywood's garage sale.

Gloria Hillard, CNN Entertainment News, Los Angeles.

(END VIDEOTAPE)

MORET: This is a vintage radio that you are looking at from the 1930, and this is the official listing of all of the million dollars — or rather million items that Gloria Hillard mentioned. If you don't have this, and obviously most of you don't, Jeff Tanenbaum of Remarketing and Associates is here.

You are running the auction. Where can people find this information?

JEFFREY TANENBAUM, REMARKETING ASSOCIATES INC.: Well, online you can attend, or go to livebid.com, www.livebid.amazon.com, and if you check out that site you can get a listing of all items, you can view photographs of each item being offered for sale.

MORET: And we've seen people come here — and Ellis is open, we're at — in Hollywood, right in the heart of Hollywood — people are coming to check out the items.

TANENBAUM: Yes.

MORET: Let's — this is an interesting item, 1921, from the sheik, Rudy Valentino.

TANENBAUM: Correct.

MORET: Rudo Valentino. What would something like this possibly go for?

TANENBAUM: Well, we could see that selling anywhere from $400- $600 and up. At an auction sale, it's anybody's guess.

MORET: From the movie "Waterworld."

TANENBAUM: Yes. A unique, custom-crafted item. This could sell for $200-$400.

MORET: And here for the traveling folks, "Laverne & Shirley's" luggage, you see the "L" here. You got a million items, what do you expect to bring in as far as revenues?

TANENBAUM: Well, if we sold everything by the piece, over six months we could get $10 million, plus for the place, but we'll sell it for maybe $2-$3 million, and maybe less, maybe more, the audience will decide.

MORET: Is there a bit of sadness associated with selling all of this Hollywood memorabilia?

TANENBAUM: Absolutely, but our hopes are for these items to end up in the hands of collectors and people that can appreciate a hundred years of Hollywood history.

MORET: And once again, the live auction is Thursday through Monday. You sell them in lots, so not everything is for sale at the same time.

TANENBAUM: Correct. It goes in numerical order, one item at a time, and groupings at a time, at the Universal Hilton Hotel, in person, or again, you can also participate online at livebid.amazon.com.

MORET: Great, thanks a lot for joining us.

TANENBAUM: Thank you very much.

MORET: We'll be back to show you more of the items here at Ellis right after this.

More of SHOWBIZ to come. ANNOUNCER: Still to come, are the sultry women of "Sex and the City" saving cable TV? And the music of French chanteuse, Lara Fabian.

(COMMERCIAL BREAK)
Rick Spector of Stairway to the Stars had saved some promotional material from the Ellis Props liquidation sale, including the following:

Note that above there is a vintage flashgun advertised as a BACK UP LITE SABER PROP FROM "STAR WARS".
The excerpt below advertises 100'S OF ANTIQUE & VINTAGE MOTION PICTURE, TELEVISION & STILL CAMERAS: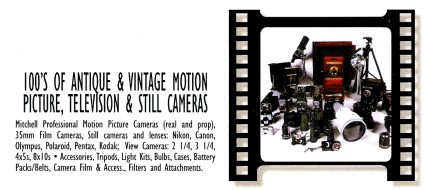 As seen in the compilation below, the asset tag seen in the photo of the prop at the National Firearms Museum (TOP) is consistent with those tags seen in photos from the marketing pieces promoting the Ellis Props liquidation sale managed by Remarketing Associates (MIDDLE, BOTTOM):

If anyone has any further information about this prop and lightsabers used in the film, please contact me or post a Reader Comment below.
Jason De Bord