This is a review of Dressed: A Century of Hollywood Costume Design by Deborah Nadoolman Landis. This is hands down one of the most impressive books in my library of works related to original props and costumes.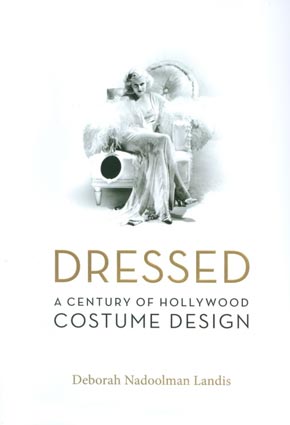 Book Facts (from the publisher)
Dressed: A Century of Hollywood Costume Design (Hardcover)
by Deborah Nadoolman Landis (Author)
# Hardcover: 592 pages
# Publisher: Collins Design (November 27, 2007)
# Language: English
# ISBN-10: 0060816503
# ISBN-13: 978-0060816506
# Product Dimensions: 12.1 x 9.2 x 1.6 inches
Product Description

From the lavish productions of Hollywood's Golden Age through the high-tech blockbusters of today, the most memorable movies all have one thing in common: they rely on the magical transformations rendered by the costume designer. Whether spectacular or subtle, elaborate or barely there, a movie costume must be more than merely a perfect fit. Each costume speaks a language all its own, communicating mood, personality, and setting, and propelling the action of the movie as much as a scripted line or synthetic clap of thunder. More than a few acting careers have been launched on the basis of an unforgettable costume, and many an era defined by the intuition of a costume designer-think curvy Mae West in I'm No Angel (Travis Banton, costume designer), Judy Garland in A Star is Born (Jean Louis and Irene Sharaff, costume designers), Diane Keaton in Annie Hall (Ruth Morley, costume designer), or Harrison Ford as Indiana Jones in Raiders of the Lost Ark (Deborah Nadoolman Landis, costume designer).

In Dressed: A Century of Hollywood Costume Design, Academy Award-nominated costume designer Deborah Nadoolman Landis showcases one hundred years of Hollywood's most tantalizing costumes and the characters they helped bring to life. Drawing on years of extraordinary research, Landis has uncovered both a treasure trove of costume sketches and photographs-many of them previously unpublished-and a dazzling array of first-person anecdotes that inform and enhance the images. Along the way she also provides and eye-opening, behind-the-scenes look at the evolution of the costume designer's art, from its emergence as a key element of cinematic collaboration to its limitless future in the era of CGI.

A lavish tribute that mingles words and images of equal luster, Dressed is one book no film and fashion lover should be without.
About the Author

Deborah Nadoolman Landis recently completed her second term as president of the Hollywood Costume Designers Guild, of which she has been a member for nearly thirty years. Her costume design credits include Animal House, The Blues Brothers, Raiders of the Lost Ark, The Three Amigos and Coming to America, for which she received an Academy Award nomination. Landis has a Ph.D. in the history of costume design from the Royal College of Art and lives with her husband, director John Landis, in Beverly Hills, CA.
Written Content (9/10)
This book includes excellent written content that covers the importance of costume and costumers in film as well as interesting anecdotes from all participants in the creative process of filmmaking – from the director to the people that wear the wardrobe and everyone in-between.
The work is immense, comprised of 566 pages with words and pictures throughout.  It is broken into ten chapters, from the "Early Years" then moving on, decade by decade from the 20s through the 00s (the last film featured being Little Miss Sunshine from 2006).
The introduction alone is a very interesting essay in its own right.  An excerpt:
Researching the history of motion picture costume design is particularly problematic.  The paper trail inherent to conventional businesses does not exist in the movie industry.  All of the major film studios have been bought and sold (especially over the last thirty-five years), becoming satellites of large multinational conglomerates, and with each new acquisition paper records are jettisoned, and archival information becomes more difficult to retrieve.  Studios routinely discard ancillary design materials from the costume and art departments, including costume design illustrations now cherished by collectors.  The Internet and specialty auction houses have become an active marketplace for movie memorabilia such as costume illustrations, costumes, and props.  But a wealth of prosaic paperwork – costume budgets, continuity photographs, costume change breakdowns, and fabric swatch books – is dumped after a film has been released and the need for reshoots has ended.  Not long after a movie has wrapped, its entire costume department disappears.
The book is very obviously written by someone who works in and is dedicated to the profession, and is very insightful.
Each chapter is populated with great quotes from a variety of sources, all underscoring the importance of costume design to film
Visual Collateral (10/10)
Of course, the images in the book are the foundation, and the selection is vast, with over 800 photographs, illustrations, stills, and other visual collateral.
Given that the entire century is the subject, it is truly a celebration of all of film.  There is a huge variety of movies covered, and the selection is outstanding.  Regardless of ones participation in collecting movie memorabilia and original costumes and wardrobe, this book would be of interest to any fan of film, in that it would serve as a great compilation of iconic images from our culture over the last 100 years.
Below are a few sample pages from the book (click each image for higher resolution):











This book includes a wide range of high quality images, many of which I've never seen.   A fantastic resource.
Presentation/Quality (9/10)
The book is in hardcover format and of a high quality. The choice of films and resourcefulness demonstrated by the photos and other accompanying visual collateral is exceptional.
Overall Value (9/10)
The retail price is a high $75.00, but can be found at Amazon and other online retailers for under $50.  Given the size and quality, I feel this is an appropriate price point and well worth the cost.
Conclusion and Overall Rating (10/10)
I really cannot recommend this book enough.  It is an excellent resource, full of information and photos, and given it's layout and presentation, can be read in parts and out of sequence to suit your interests.  I would characterize this as a "must have" for any original prop and wardrobe hobbyists.
Jason De Bord