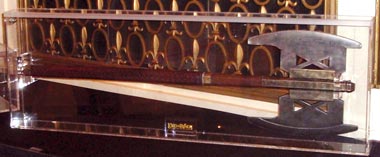 This is a follow-up to the two prior articles (first, second) noting the exhibition of original props and costumes on display at The St. Louis Symphony Orchestra performance of Howard Shore's score for the Lord of the Rings films this past weekend.
The following original pieces were on display for the event:
The Witchking (Ringwraith) Costume
Lurtz (Uruk Hai from Fellowship) Costume and Weapons
Aragorn's Ranger Sword
Frodo's Sword Sting
Eowyn's Sword
Gimli's Battle Axe
The private collector who loaned the Symphony a few examples for display at the event is a personal friend of mine, and he does have some long-term objectives in mind with sharing his collection. He has hopes of participating in the public display and exhibition of his collection at similar events. This collector has one of the largest collections of original and authentic Lord of the Rings pieces outside of Peter Jackson and Weta.
One of the more interesting anecdotes related to the public reception of the pieces was the overall presumption that the pieces were replicas – not originals used in the production of the films.
Below are a few photos from the event:







Jason De Bord