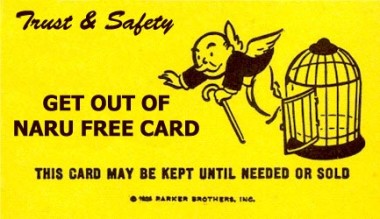 I've noticed more and more of late that eBay users will have their accounts converted to "NARU", or "No Longer A Registered User" (also "Not a Registered User") status by eBay, and then later the accounts appear reactivated. 
"NARU" status used to be commonly referred to as "kicked off eBay" by members, but if it is transitory, what exactly does it mean anymore?  Is it even possible to be "kicked off" eBay?  If so, how would a third party user be able to determine this by looking at someone's account?
"NARU" Per eBay (LINK):
The eBay Feedback system does not allow you to leave Feedback for someone who is not a registered user.

This doesn't necessarily mean that you will never be able to leave Feedback for the member. The item will remain in My eBay for at least 60 days, and if the member is reinstated within that time, you can leave Feedback for the member then.

However, if the member's registration does not become active again, or if it doesn't become active until after 60 days, you will not be able to leave Feedback for this member.

In addition, we don't recommend sending payment to a seller if they are not a registered user. If you've sent payment to a seller who is now "not a registered user" and you haven't received the item after a reasonable period of time, please file an Item Not Received dispute.

If a bidder has become "no longer a registered user" since winning your auction, don't send them the item until payment has cleared. If they don't send payment, you can file an Unpaid Item Dispute to claim your Final Value Fee. Since the buyer is unregistered, you'll be able to close the dispute and request a credit immediately.

Note: "Not a registered user" can refer to members who have cancelled their membership, or whose membership has been suspended by eBay. For example, a member whose correct contact information is no longer on file with us may have their registration suspended until the new contact information is entered. In either case, the member appears as "not a registered user" and is not allowed to buy or sell on eBay. eBay also removes negative and neutral feedback left by members who later become suspended.
Some eBay users I've tracked have been converted to "NARU" status three or more times, and come back as an active user.  Troubling to me is the fact that, unless you proactively track the status of other users accounts, there is no evidence of users having been in this status if they are brought back to active.  Given that it actually takes substantive bad service or other problems to even reach the point of "NARU" status, even temporarily, shouldn't eBay user/members be alerted to the risk one takes in transacting with another user who has already been removed from eBay previously due to problems?
As an example, there was an OPB report in July noting that eBay's "puttieface" or "votehillary" was converted to "NARU" status (see eBay's "puttieface", "votehillary" No Longer a Registered User).  Subsequently, Mario Sarrica then began selling merchandise via an alternate eBay account (see eBay's "puttieface"/"votehillary" – "spadorcia"/"hoist73″).  As updated in a Reader Comment in the original article, approximately two weeks later the "votehillary" account was again active.
Since being reverted from "NARU" back to active user status by eBay in mid-August (less than one month ago), four new negative feedback remarks have been left by "votehillary" buyers:
Buyer suntzuwebster (Aug-21-08 10:43):
Returned Fake Item. COA was a color copy that did not reference the item.

Reply by votehillary (Aug-21-08 17:18):
This comment has been removed by eBay. Learn more.
Buyer johnnyxkr (Aug-26-08 10:25):
Nothing received after 6 weeks, very disappointed

Reply by votehillary (Aug-26-08 16:53):
Sorry post ofice error all Taken care of reshipped today Nice buyer enjoy
Buyer johnnyxkr (Aug-26-08 10:28):
Nothing received and still waiting for COA from previous auction 3 months ago!!

Reply by votehillary (Aug-26-08 10:31):
Sorry it was lost in overseas shipping it is out of our control thanks
Buyer metamophore (Sep-04-08 05:53):
Didn't receive item ,seller no contact with buyer,or responsed only with"ok\hi"

Reply by votehillary (Sep-04-08 05:58):
sorry buyer does not speak english large shipment lost overseas so sorry
If you note in the first example above, eBay read the negative feedback remark (because they edited/removed the "votehillary" response) and yet as of today, after at least once being restricted from participating on eBay by virtue of "NARU" status and being aware of additional problems with buyers per feedback that has been reviewed by eBay, Mario Sarrica still has two separate accounts – "votehillary" and "hoist73" – active on eBay.
Mr. Sarrica has updated his "votehillary" eBay ME page as follows:

Text:
WE BUY SELL TRADE AND CONSIGN

Contact us anytime we would love to hear what you have to offer All Authentic Memorabilia Big or Small we are int

Looking to invest? Let us help you, with over a decade in the field we can offer you items that can show a return of 5 to 1000 pct in a short time .Sound to good to be true drop us a line we will show you how the experts do it all the time!!! First rule never buy off a memorabilia website you are paying the highest possible price for every item offered. 99 pct are resold on ebay for heavy losses!!!! Many vendors actually rebuy under false names!!!! and resell several times! Invest like an expert drop us a line. We also authenticate memorabilia see an item ask us first!
In the past several months, I have tracked several other eBay sellers who have been changed by eBay to "NARU" status, then changed back to active status.  So, as asked in the opening – does this status have any meaning?
Is there such a thing as being permanently removed from eBay as a user?
How can other users distinguish between temporary and intermittent status changes and permanent ones when reviewing seller accounts and trying to make an informed decision about buying from them?
Does eBay have a responsibility to mark such accounts that were previously "NARU" status in some way so that, all things considered, eBay members can avoid transacting with sellers that have a history of problematic transactions?
Is it appropriate for eBay to erase feedback comments made by sellers?  Should not all members be evaluated by their own comments?  If a member made a comment in violation of eBay policy, should that not warrant removal of the member, rather than the comment?
Again, going back to eBay's own policies and definitions:
In addition, we don't recommend sending payment to a seller if they are not a registered user.
But if they are not a registered user (and eBay recommends not sending payment), how can they later reinstate the membership of that same seller yet withhold the prior NARU status from a consumer?  If perhaps days or weeks or months earlier, the recommendation would be to not complete a transaction, would it not be appropriate to at least share that fact publicly with users so that they can evaluate the higher risk with said seller?
Obviously, there are a number of questions that can be asked of these trends and specific situations, but I fear that ultimately, they are rhetorical.
Jason De Bord