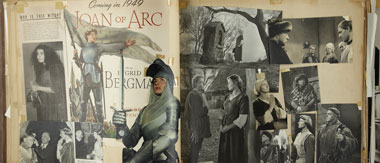 The Heritage Auction Galleries website now offers the online catalog and listings for their upcoming event, "Signature Music & Entertainment Memorabilia Auction – Auction #696", to be held October 4-6 in Dallas, Texas.
Below is a link to the online catalog:
Heritage Auction Galleries "Signature Music & Entertainment Memorabilia Auction

Description: The Heritage Music and Entertainment venue features entertainment and pop culture memorabilia which includes celebrity signed documents, vintage photographs of stars of stage and screen, and props and costumes from the world's most celebrated productions. The division achieves national and international press before each and every auction. Each auction offers true entertainment treasures and is truly a collector's paradise.
The selections definitely represent classic and vintage Hollywood film and television, rather than more contemporary productions, and of the 1,600 or so lots, it seems fairly evenly split between music and film & television, all under the broader "Entertainment" umbrella.
In my own discussions with Doug Norwine, Director of Music and Entertainment Memorabilia for Heritage, they claim to have put a great emphasis on researching and authenticating the consignments for this catalog.
Below are a few of the highlights from the auction:
Alice Brady's 1937 Best Supporting Actress Academy Award for In Old Chicago.

In 1936, Alice Brady received her first Oscar nomination, for Best Supporting Actress in the classic Depression satire My Man Godfrey, costarring William Powell and Carole Lombard. The following year, she won the Academy Award for Best Supporting Actress for her performance as Mrs. O'Leary in 20th Century-Fox's In Old Chicago (1937), co-starring Tyrone Power and Alice Faye, but she never laid her hands on the original famed statuette. In her absence (due to a broken ankle), a stranger walked onto the stage, accepted the award, then disappeared without a trace. Shortly after the Academy issued a replacement, Alice tragically died of cancer at age 46. Most accounts erroneously state that Alice died before receiving her award, however, a clipping included in the lot features a photo of Charles Winninger and Alice, holding the replacement award, more than likely shot on the set of their 1938 comedy Goodbye Broadway. Film historians, be ready to correct your records! Another fascinating note — these smaller awards were not presented after WWII for the competitive categories. In fact, they were considered second rate, despite the fact they are Awards of Merit. Few of these smaller awards exist, as most were traded when the Academy permitted actors to exchange them for full-sized statuettes. The plate is engraved "Presented to Alice Brady in recognition of her performance in 'In Old Chicago' 1837 (engraver's error)." This is a one-of-a-kind Oscar with an incredible history! Also included is a newspaper clipping. Gold-plated bronze on black Belgium marble base, 6″ x 6.25″ x 3.25″, manufactured by Dodge Inc. of Los Angeles. In Fine condition with a 3/4″ chip at bottom left corner of base. From the William and Alice Brady Estate Archive. Estimate: $40,000 – up.
Joan of Arc Academy Award for Best Costume Design, 1948, The First Oscar Ever Awarded for Costumes.

In 1948, 34-year-old costume designer Dorothy Jeakins found herself collaborating with director Victor Fleming and costuming actors Ingrid Bergman and José Ferrer. The film, Joan of Arc, was Jeakins' first Hollywood project, and her inventive, character-driven designs caught the eye of the Academy, as well as costume design legend and competitor, Edith Head. That year, the two were nominated for the first Oscar for Best Costume Design ever to be awarded. Head, certain she would win the coveted prize for her elaborate designs for The Emperor Waltz, was quoted as saying: "I deserved it — for longevity if nothing else. I had been doing motion pictures before the Oscar even existed… To my mind there was no way Ingrid Bergman's sackcloths and suits of armor could win over my Viennese finery." Jeakins' unanticipated victory was quite an event — a coup for the young designer, and a first for the Academy. The Best Costume Design award, from that moment, became the Holy Grail for designers, a symbol of ultimate achievement in the field, and one of the most prestigious and fascinating categories on the Academy's ballot.

This is a rare opportunity to own an award that made history, truly the first of its kind. Made of gold-plated britannium on a black metal base, the statuette stands 13.5″, weighs 8.5 lbs., and depicts an Art Deco-style male figure holding a sword standing upon a reel of film, a design recognized worldwide. Though there are very small areas of tarnishing to the top of Oscar's head, and on the statuette's back (barely visible), it is in otherwise Excellent condition. Accompanied by an image of Dorothy Jeakins holding the award alongside the award's presenter, Elizabeth Taylor. Estimate: $40,000 – up.
Elvis Presley's Two-Piece Custom Chamois Leather Suit.

This supple white chamois leather jacket and pants set was one that Elvis had custom-made for himself circa 1974. After admiring a similar one worn by singer Johnny Mathis, Elvis commissioned North Beach Leather to tailor a set of four for him, each slightly different from the others.

The handmade suit has a large collar, thick leather stitching along the seams, a floral motif trimming, and a large illustration of a nymph-like figure entwined in vines hand-painted on the back of the jacket.
Elvis wore the suit during the summer of 1974 while playing his record-breaking series of consecutive gigs at the Las Vegas Hilton, as seen in the accompanying photographs. After Elvis' death, the suit fell into the possession of Elvis' second cousin, Jerry Presley.
Perhaps the best provenance for the suit are the bloodstains in seat of the pants from Elvis' receiving B-12 vitamin shots before shows; due to the lack of inner lining in the trousers, the leather was directly stained. The stains have been tested by Jerry Presley and have been confirmed to be DNA and not ink, paint, or other material.

The suit is complete and in overall Very Fine to Excellent condition, devoid of holes and tears, and shows only some minor spots of soiling. The overall wear is minimal, but distinctively bright white patches under the arms contrast with the overall cream color of the suit, suggesting some discoloration with age. A fantastic, one-of-a-kind item. Accompanied by a letter of provenance from Elvis' second cousin, Jerry Presley. Estimate: $125,000 – up.
John Lennon Original Drawing and Unpublished Song Lyrics.

11.75″ x 9″, black ink on sheet from sketch pad. During the spring of 1968, the four Beatles and their wives were students of Maharishi Mahesh Yogi in Rishikesh, India, where they also wrote songs that eventually were recorded for The Beatles (aka "The White Album"). One of John Lennon's songs left unrecorded and unpublished was titled "Subtle Woffell," the first verse of which is included on this sketch at bottom left: "beneath the deep Ambrosia tree/the Subtle Woffell lies/and he will sing to comfort thee/ under the purple skies." The figure lounging under the tree in the sketch is the Subtle Woffell, who has an eye-rolling expression on his face and nine fingers on his right hand ("Number nine?…"). The inscription at bottom right reads: "happy birthday Colin/with love from John: some time in March-Rishikesh, 1968." All four Beatles created birthday drawings and cards for "Colin," a fellow student of the Maharishi (presumably Colin Boyd, brother of George Harrison's wife, Pattie). In Fine condition with slight wear and a tiny tear along the top edge. Accompanied by a COA from PSA/DNA. Estimate: $30,000 – up.
Theda Bara's Madame DuBarry Gown.

1918's Madame DuBarry, based on the Alexandre Dumas novel, starred Theda Bara as Jeanne Vauberniere, the milliner who eventually becomes the mistress of a king. Naturally her costumes were exquisite and the masterpiece of the lot was this amazingly beautiful gown, a silver, gold and blue creation that Theda treasured and kept in her Beverly Hills home for more than 45 years after Madame DuBarry's release. The 90-year old gown is truly everything a French king's mistress could have dreamed of, with ermine accents throughout, and survives in gloriously preserved Excellent condition. The lot includes a copy of Statement magazine, Issue # 4, 2007 which contains a sepia-toned picture of Theda wearing this gown in Madame DuBarry. (The magazine also features pictures of some of the other Theda Bara material in this auction, all given by Theda to the consignor shortly before she died in 1955.) Classic movie material at its most magical. From the Joan Craig Costume Archive of Theda Bara. Accompanied by a letter of provenance from Joan Craig. Estimate: $12,000 – up.
Frank Sinatra Original 1985 Oil Painting.

Frank Sinatra supremely conveyed a vast emotional spectrum, both musically and cinematically, for a half century. During his later years, after retiring from films, he enjoyed having ample time to indulge his love of painting, which he found both physically relaxing and artistically invigorating. In her introduction to the 1991 book A Man and His Art: Frank Sinatra, his daughter Tina writes: "Like most artists, Dad's moody. He's said that he likes to get his paintings finished quickly because his mood begins to change. He's got his attention directed at the canvas for a period of time, and then he wants to move on to the next one." In 1985, Sinatra went through a phase during which he favored the pattern used in this painting, an explosive burst of bold colors (including his favorite, orange) in all directions.

This rare 38″ x 38″ painting, framed in 1.5″ gold-colored aluminum, also includes a 1″ pink matte. It is signed "Sinatra 85" at lower right. Sinatra created this work as a personal gift for his longtime aide and closest friend, Jilly Rizzo, whom he considered "the brother I never had." From the Jilly Rizzo Estate Archive. Accompanied by a letter of provenance from William Rizzo. Estimate: $20,000 – up.
Jack P. Pierce's Scrapbook.

Jack P. Pierce was the true Dr. Frankenstein of Universal City.  The most legendary makeup artist in Hollywood history, Pierce was a scrappy genius, an unassuming artist, and a genuine creator of folklore. His name is synonymous with Golden Age Universal, where he was makeup chief from 1927 until 1947. Pierce designed and protected the beauty secrets of actresses, designed and applied brilliantly believable age makeups, and worked cinema magic.

Most famously, he created monsters.

Boris Karloff's Frankenstein Monster and Mummy, Claude Rains' bandaged Invisible Man, Elsa Lanchester's Bride of Frankenstein, Lon Chaney Jr.'s Wolf Man — indeed, every Universal creature of the night who inspired nightmares throughout the Depression and World War II came into being via the tricks, tools, and remarkable imagination of Jack Pierce.

This is a once-in-a-lifetime opportunity to own Pierce's personal scrapbook. It's an amazing artifact, so packed with original photos, clippings and correspondence that lifting the massive 18-pound, 16.5″ x 18″ book provides the spine-tingling sensation of actually holding classic Universal history in your hands. Although the consignor has removed some of the horror material to preserve in his own collection, a gothic treasure-trove remains — and all of the shots are originals (with some of them actual proofs, pre-dating the originals), as are all the clippings. Among the material, all personally attached to the book by Pierce with makeup tape, are:

A newspaper photo of Jacques Lerner in Pierce's simian makeup in 1927's The Monkey Talks; a magazine photo of Conrad Veidt with Pierce on 1928's The Man Who Laughs; newspaper and magazine clippings on 1931's Frankenstein; a two-page spread on 1932's The Old Dark House, with photos of Karloff as Morgan and Elspeth Dudgeon as the 102-year old Mr. Femm, plus reviews; multiple pages on 1932's The Mummy, with stills of Karloff and Zita Johann, trade paper coverage of Karloff presenting Pierce the Hollywood Filmograph award for makeup (with trade paper photos of Karloff and Pierce with the trophy), a Universal Weekly page devoted to the film, congratulatory telegram to Pierce and Karloff on the film, the magazine feature "Makeup Secrets of Movie Horror Pictures;" a Spanish magazine feature; Claude Rains portraits (in goggles and bandages) from The Invisible Man; magazine photo of Elsa Lanchester in Bride of Frankenstein, separate magazine photos of Karloff and Lanchester, clippings including a New York Times story on the film (May 10, 1935) and Spanish magazine feature; trade ad for Werewolf of London, two stills of Henry Hull, the Variety review and a Feg Murray newspaper sketch of Hull as the lycanthrope; Douglass Montgomery in old age makeup from The Mystery of Edwin Drood; magazine photo of Karloff in The Raven; portrait photos of Karloff and Lugosi in The Invisible Ray; two Karloff portrait photos from Night Key; candid photo of Pierce with Karloff, Lugosi and director Rowland V. Lee clowning on Son of Frankenstein, plus page from the press book, a Feg Murray color newspaper sketch of Karloff's Monster, Buffalo Times rotogravure two-page spread sketch entitled "Monsters in the Making"; Karloff "attacking" Pierce candid from Tower of London, plus photos of Basil Rathbone, Ian Hunter and Vincent Price; candids from Black Friday of Pierce with Karloff, and of Karloff with Stanley Ridges; photos of Vincent Price and Margaret Lindsay in House of the Seven Gables; four shots from The Mummy's Hand, including two of Tom Tyler's Mummy; two photos of Pierce with John Barrymore on The Invisible Woman; two photos of Lon Chaney Jr. in Man Made Monster; three shots of Chaney Jr. as The Wolf Man, plus clippings; two photos of Chaney and Lugosi in The Ghost of Frankenstein; Lionel Atwill in Asian makeup as "the Baron" in Junior G-Men of the Air; photo of Chaney in The Mummy's Tomb; Hollywood Reporter story "Bela Lugosi Collapses Under Monster Makeup" regarding 1943's Frankenstein Meets the Wolf Man, plus Newsweek review of film; seven stills from 1943's Phantom of the Opera; David Bruce in makeup as 1943's The Mad Ghoul; photos of Karloff and J. Carrol Naish in House of Frankenstein; photo of Vicky Lane in Jungle Captive; photo of Chaney in House of Dracula.

Of course, there's more than horror here — in fact, the scrapbook dates all the way back to 1915 and covers a half-century of film and TV history. There's original material related to many Universal classics of the 1930s and 1940s: All Quiet on the Western Front, East of Borneo, Back Street (both the 1932 and 1941 versions), Great Expectations, Show Boat (both the 1929 and 1936 versions with a magnificent two-page spread on the latter), Three Smart Girls, Arabian Nights, and many more. The stars are here too: beautiful photo portraits of Deanna Durbin (including a candid of Jack attending her 19th birthday party), clippings of Abbott and Costello joining Jack in making an effigy of Hitler, photos of Tom Tyler (as Buffalo Bill), Sidney Fox (in Asian makeup), Edward G. Robinson, Irene Dunne, Edgar Bergen and Charlie McCarthy, Maria Montez, and a 1931 full-length portrait of starlet Bette Davis (with original snipe en verso).

There are "thank you" letters from charities and wartime organizations that Jack assisted, a spread of photos from 1948's Joan of Arc (which Jack worked on after leaving Universal), candids of Jack from various phases of his career, and finally, a page with a horseshoe drawing, signed by the company of Mr. Ed — Jack's professional swan song — signed by stars Alan Young and Connie Hines, director Arthur Lubin, and the voice of the horse (of course), Allan "Rocky" Lane, who's signed his own name as well as Mr. Ed's.

The book is brown leather, inscribed on the lower right corner: "Jack Pierce from Harry Gladstone." There is some minor tattering on some pages and a few cracked edges on some pictures, and Jack has written names and/or dates on some photos. Still, the overall quality of the material is Very Good and the impact of this material and its history nearly overwhelming.

Jack Pierce died in 1968, fearing that Hollywood had virtually forgotten him. Fans of classic cinema have embraced him with a respect he never enjoyed in his lifetime, and this scrapbook is an intimately personal testimony to his genius. The Jack Pierce scrapbook is a wonderful relic from a bygone Hollywood, carrying the very essence of the man who once was this scrapbook's proud custodian. Estimate: $25,000 – up.
Jason De Bord