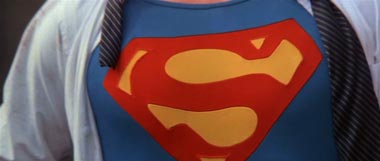 This article provides an archive of stills from the film, Superman III.  This film is not available in any high definition (HD DVD or Blu-Ray) disc format, so these captures are in standard definition (1153×649).
I have archived an assortment of screencaptures/screencaps/stills from the first two Superman films in high resolution format (see Reference Archive: Superman: The Movie, Reference Archive: Superman II) to serve as a reference in the ongoing series of articles about costumes in the marketplace attributed to use by Christopher Reeve in the Superman films of the 70s and 80s.
Note: Click each image for the full resolution image.

























































































Jason De Bord
Additional Related Articles:  Market Watch | Superman