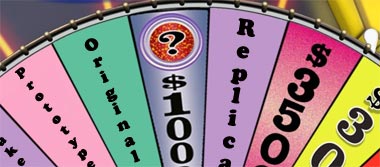 Currently listed on eBay is a Star Wars Jawa Sandcrawler model that is marketed as "FROM ORIGINAL 1976 STAR WARS and "ONLY PRE-PRODUCTION MODEL IN EXISTANCE!".  I archived an auction listing from the same seller for the same item from earlier in the year and have compiled facts, photographs, and information from key Star Wars publications to compare with this piece and how it was marketed in January 2008 and now in July 2008.
The original scale model Jawa Sandcrawler is an extremely well-documented prop (from conceptual designs to prototype model to construction process of the one scale model to filming to post production to archiving and exhibition) and compiling this information from the various original sources brings actual facts to light that are applicable to this auction and the marketing claims.
The current auction lists out "scenarios" pertaining to authentication along with the seller's estimations of the statistical chances of the validity of the claims, per the seller.  Everything else aside, the auction is in clear violation of eBay "Authenticity Disclaimers" policy (see eBay Policy: Authenticity Disclaimers) and statements in the currently active listing are in stark contrast to the claims made in the original January 2008 auction in which the seller stated "I am certain that I have a piece that was actually used in the original Star Wars released in 1976".
eBay Seller:

dustoff1 (

Current July 2008 Auction

)

Auction Title: "JAWA SANCRAWLER PROP FROM ORIGINAL 1976 STAR WARS;
ONLY PRE-PRODUCTION MODEL IN EXISTANCE!"


Noted Source/Provenance: "…from a guy in Albaqurqe New Mexico"


eBay Item #: 170236932212

End Date: 07/16/08

Auction Result: Currently Active, Bid of $1,000.00, Reserve Not Met, "Buy It Now" $12,000.00


Full Auction Archive: "JAWA SANCRAWLER PROP FROM ORIGINAL 1976 STAR WARS;
ONLY PRE-PRODUCTION MODEL IN EXISTANCE!"
Description:
Ok, read carefully, it is highly unlikely you will ever, ever see an item like this again for sale anywhere. I had it up before but a knuckle head messed up the bidding and then didn't pay for the item.

IF YOU TRULY WANT A UNIQUE ITEM FOR YOUR STAR WARS COLLECTION-THIS IS IT I DARE YOU TO FIND ANYTHING LIKE THIS FOR SALE ANYWHERE. NOTHING LIKE THIS EXISTS IN THE KNOWN UNIVERSE. I EVEN HAD ONE LICENSED STAR WARS COLLECTIBLE COMPANY READY TO BUY IT SO THEY COULD HAVE AN EXACT REPLICA TO PRODUCE LIMITED EDITION MODELS FROM, BUT THEY LOST THEIR CONTRACT WITH LUCAS FILMS.

What you see here is a one of a kind, rare Star Wars item that is completely unique. There is nothing on the market like this for sale. I am only selling this because I need the cash. I had it up for sale twice before. The first time, it met the reserve of $5000, but that guy was a flake. Second time, I pulled it from auction to get more time to do some research and get better photos. I learned a lot from some very knowledgeable experts during those two postings.

This is an incredibly detailed model of the Jawa Sandcrawler as seen in the 1976 Star Wars movie. It resides in a Plexiglas display case that has mock desert sand, which shows the crawler tracks in the sand, as if it had crawled into the display. The unit has lights, but I have never tried to light them up. The following info is what I have on the unit and my best guess as to its authenticity and what it's worth. If anyone out there has a way to reach Joel Diepenbrock, then you should be able to easily determine which of the following categories it falls in to. I have not been able to reach him myself.

Best case scenario: My percentage estimate that this is the case: 25% It really was used in still and pre production shots of the original 1976 Star Wars movie. I cannot authenticate this but have been told that if I could, the piece would easily be worth $20,000. Personally (I am not an expert) I believe that this is a very good possibility. The card with Joel Diepenbrocks named looks to be old enough to be a mid 1970's piece. I opened a computer store in 1995 called Computer Exchange. This was before Ebay was around, or at least in a big way. I bought it from a guy in Albaqurqe New Mexico. I paid around $3000 cash and a nice laptop at the time. I wasn't buying it as an investment, I was buying it because I wanted it. That was 13 years ago, and even though my business has grown and thrived, and I keep pretty good records, I cannot locate the guy I bought it from. I am a pretty skeptical person and am pretty good at valuing things. I felt it was worth the money, but more than that, I wanted that piece, which was originally on display at my Washington Rd Computer store. For security reasons, I then moved it to my study and I can assure you that it was always the most interesting thing to my guests. I have since moved and am going to build a study/party shack and would love to have the piece there. But because of a series of real estate investments and a significant amount of internal theft that took place at my business, I need the cash. This is probably the last time I am going to put this up for sale. If it does not sell, I will still squeak through and regain my usual healthy cash flow. But at this point I really need the cash to keep my Panama City Beach property payments up. (its for sale too if you are interested)

Next case: My percentage estimate that this is the case: 70% It was made by Joel Diepenbrock as a precursor, practice if you will of the larger 3 ft motorized model used in the movie. I believe this is very likely. Diepenbrock is a well known modeler that worked on the original Star Wars, 5th Element and other well known movies that used miniature models in production. The detail on the model is incredible and I cannot see any difference between this model and the video shots in the original movie. It is hand built and complete. (contrary to what I heard in the Star Wars community, the model is complete on top, bottom, and all four sides) This is not something that a casual modeler would be capable of. Only someone with years of experience building models from scratch could have produced this. (TAKE SPECIAL NOTE OF THE PICTURE THAT HAS HIS NAME ON IT) I have been told that if this is the case, a reasonable price would be between $8000 and $12000. My reserve is $5000 and I will let the market determine the worth.

Worst case: My percentage estimate that this is the case: 5% It was suggested to me by a collector that this is a fan built model, simply built after the movie came out. I don't think this is possible. The intricate detail of the physical form as well as the perfect match of paint and the fact that it has a metal interior frame that was built from scratch indicates a very high skill level, not something amateur built.

Even at worst case, there is nothing else like this available. I have seen store bought models of the Jawa sell for nearly $2000. This is far more intricate, and exceedingly rare. I believe that even at worst case it is worth $5000. The buy it now price, however is $12,000 as I think this piece is worth every penny.

I am trying to include as many detailed photos as I can, but if you require specific shots or close ups of a particular area, let me know. I am heading into the busiest season of our year and will be extremely busy the next 6 weeks or so. Given that, I will try to answer all questions and field all the phone calls that I can. If you get my voice mail, leave a message.. I will get right back to you. I would particularly appreciate any information that might help me authenticate the piece.
eBay Seller:

dustoff1 (

Previous January 2008 Auction

)

Auction Title: "Star Wars Movie Prop Jawa Sandcrawler Original 1976; You will never see this again for sale. Not a toy"


Noted Source/Provenance: "I got this from a guy in Arizona"


End Date: 01/26/08

Auction Result: Sold for $5,000.00


Full Auction Archive: "Star Wars Movie Prop Jawa Sandcrawler Original 1976; You will never see this again for sale. Not a toy"
Description:
Ok, this is a once in a lifetime listing.  No fluff.  I have owned Augusta Computer Exchange, Inc. for 12 years.  In my second year of business, I had occasion to obtain this Jawa Sandcrawler that was a still production model for the original Star Wars movie.  The first picture I have posted is of the production tag of Robert Diepenbrock.  Google Mr. Diepenbrock as a model maker for The Fifth Element or The Wrath of Kahn and he is listed as a model maker on those as well as Industrial Light and Magic.  Here is a sample of what I pulled up on Google.  Dont take my word for it… Authenticate this… and verify my company and check my Ebay feedback.  I have not used Ebay in some time.  I have started two new companies and am in a cash crunch. That is the only reason you see this listed.

I got this from a guy in Arizona and paid a pretty penny for it in 1996 or 1997 or so…  I paid in cash and merchandise worth well over $5000.  I have only recently taken the time to Google Mr Dienpenbrock.  To be honest, I thought that I just had a very nice hand built model until about 20 minutes ago.  After doing a search, I am certain that I have a piece that was actually used in the original Star Wars movie released in 1976.  There were still shots in the movie that match this model down to the smallest pixel that I can view.  The motorized models that actually operated are under 24 hour armed guard.  This piece was sold before the set was locked down.  The statute of limitations for goods in which ownership is in dispute is 17 years.  I do not think this item is stolen or I would not be listing it.  But I only say this to reasure any buyer that there will be no legal issues involved.

Feel free to contact Robert Diepenbrock or Industrial Light and Magic to verify this.  You will not see an item like this again on Ebay..  The last time I saw something this exciting, was when someone had the origianal phasers and tricorders from the ORIGINAL Star Trek listed.  They went for over $5000 each.

Never thought I would be in a position that forced me to auction this, but here I am.  You can reach me by phone and I will take any number and kind of photographs that you would like.  But let me be clear… Payment must be up front and verifiable… On an item like this, I would suggesting flying in to pick it up, or for the right fee, I will drive it to you.  I would not fly this on a plane unless it were a private one.

Charles Kelly, President, Augusta Computer Exchange, Inc.  3835B Washington Rd, Martinez, GA  30907

706-651-1900  store phone  (good luck–in meetings, but you can try-if you get my staff, just tell them to say "you have a jawa sandcrawler phone call-that will get me to the phone if I am in the store)  or cell phone 706-832-7974

This is not a scam or a joke and dont bother to call me or bid unless you are very,very serious.  I have purchased items costing over $24,000 on Ebay… I dont play, so please treat me with the respect that you would expect in return.  (for the die hard fan that just wants to call– go ahead… I will take your call if I have time… just tell me up front that you dont have the money… I will tell you the details anyway, its kinda cool story)

Bob Diepenbrock was an employee at Industrial Light & Magic who was assigned as a model maker under Steve Gawley.  He was among the team responsible for the construction of the USS Reliant studio model for Star Trek II: The Wrath of Khan.

While at Industrial Light & Magic, Bob Diepenbrock worked on the model of the mothership for E.T. the Extra-Terrestrial and assisten on various films such as Raiders of the Lost Ark, Poltergeist and set work for The Right Stuff.

In 1996, Dienpenbrock returned to special effects by working for Digital Domain where he built the battle cruiser and Maundocheuan Ship for The Fifth Element, then to Sony Pictures were he worked on model construction on all battle cruisers for Starship Troopes.  He later did the first sketch models for Buena Vista's Armageddon

_______________________________________________________

On Jan-20-08 at 18:30:27 PST, seller added the following information:

Ok I HAVE HAD SOME VERY HELPFUL CALLS ABOUT THIS PIECE.  I AM GOING TO POST MANY MORE PICTURES TOMORROW AND ALSO PROVIDE THE INFORMATION THAT I HAVE RECEIVED ABOUT THIS PIECE.  I WILL ANSWER ALL QUESTIONS TOMORROW.  I MAY END UP PULLING THE AUCTION TO GIVE ME MORE TIME TO AUTHENTICATE THE PEICE.  BY THE WAY MY RESERVE IS $5000

_______________________________________________________

On Jan-24-08 at 08:10:24 PST, seller added the following information:

NOTE:  JUST HAD TIME TO UPLOAD PICTURES….MY RESERVE IS $5000. I DONT THINK IT WAS USED IN THE MOVIE, BUT CANNOT COMPLETELY RULE THE POSSIBILITY OUT.  I DONT HAVE TIME TO TRACK DIEPENBROCK DOWN, SO IF ANYBODY KNOWS HIM, FIND OUT WHAT HE THINKS.  I WILL JUST LET THE AUCTION TAKE PLACE.  IF IT GETS $5000, THATS GOOD.  IF NOT, I WILL TRY AND AUTHENTICATE IT OR JUST KEEP IT.  IT LOOKS REALLY NICE ON DISPLAY.  SOMEONE SAID IT MIGHT HAVE BEEN FAN BUILT.  I AM NOT AN EXPERT, BUT I DONT THINK SO.  WHO WOULD CLAIM TO BE ROBERT DIEPENBROCK AND NOT TAKE CREDIT FOR THAT INCREDIBLE DETAIL THEMSELVES?
The following information and photos are from the officially licensed and authorized books:
Star Wars: The Magic of the Myth
From Star Wars to Indiana Jones: The Best of The Lucasfilm Archives
Star Wars Chronicles
The Making of Star Wars: The Definitive Story Behind The Original Film (OPB Review)
Sculpting a Galaxy: Inside the Star Wars Model Shop (OPB Review)
Star Wars: The Magic of The Myth
The following images are from page 23 of Star Wars: The Magic of the Myth:

The insert reads:
Concept drawings for sandcrawlers by Ralph McQuarrie

From Star Wars to Indiana Jones: The Best of The Lucasfilm Archives
From page 18 of The Best of The Lucasfilm Archives:
Off-the-shelf parts are an important part of big-movie model making.  The sandcrawler craft used by the Jawas to scour the flatlands for minerals and plunder, utilized four store-bought panzer tank tracks at its four corners.  The final sandcrawler model was a fully motorized, radio-controlled vehicle three feet long and constructed of birch plywood covered with plastic and detailing.  It was built with such powerful motors that its radio operators could make the sandcrawler pop a wheelie, although when the cameras rolled the miniature vehicle only had to lumber over the Tatooine wasteland.
The following images are from page 18 of The Best of The Lucasfilm Archives::

The insert reads:
Jawa Camp, production drawing

Sandcrawler, concept sketches

Sandcrawler, early prototype, 33 x 40 x 28 cm.

Sandcrawler, final model, 56 x 125 x 66 cm.
The following images are from page 19 of The Best of The Lucasfilm Archives::

The insert reads:
Sandcrawler, production sketch

Sandcrawler, production sketch
Star Wars Chronicles
The following images are from page 60 of Star Wars Chronicles::

The insert reads:
Only the lower part of the full-scale sandcrawler was actually constructed for filming.  Matte paintings were used to complete the vehicle, and a radio-controlled model was used for shooting in the California desert.  The full-scale sandcrawler was two stories high and 27 meters long.  The completed model measured 56 x 125 x 66 cm.
The following images are from page 61 of Star Wars Chronicles::

The insert reads:
Front view of the sandcrawler
Rear view of the model
The following images are from page 61 of Star Wars Chronicles::

The insert reads:
Side view of the completed radio-controlled sandcrawler model
Unfinished left half of the model
Luke Skywalker and Uncle Owen at the Jawas' droid auction purchasing Artoo and Threepio
Rear view during construction
Overhead view
The radio-controlled model was only finished on the right side, with the left side left unfinished for easy maintenance and repair.  This method of only finishing one side of a model was often employed during the making of the trilogy, based on joint discussions between designer Joe Johnston and ILM model makers.
The Making of Star Wars
The following photos are from page 75 of The Making of Star Wars:

The insert reads:
Sandcrawler

Circa April 5, 1975, McQuarrie revised Cantwell's sandcrawler design and illustrated the escape of the robots from the vehicle as described in the second draft (below).  The sandcrawler has stalled because of falling rocks fromt he cliffs, and the Jawas are trying to figure out how to put the track back on the wheels.  The vehicle the Jawas use for storing their wares had originally been inspired by photographs of a NASA-designed rover built for exploring the terrain of alien planets (perhaps more like Cantwell's model, top right).  The Jawas themselves are outgrowths of the "shell-dwellers" in Lucas's THX 1138.

"It was supposed to be a very large, old, rusty, and tracked vehicle," MCQuarrie says.  "You had to climb up all the stairs to ge tin, and there were a lot of rooms in it, storage places.  I envisioned this thing on the front with teeth to be part of a scoop that comes down with a hydraulic arrangement to pick things up, like a garbage truck."

"Ralph had done a painting of the sandcrawler," Johnston says.  "He had done side views, and it was real long and streamlined.  I thought that it could be higher and more awkward and rustier, kind of clumsy looking, so that influenced my redesign of same" (below right)
The following photos are from page 248 of The Making of Star Wars:

The insert reads:
The sandcrawler model's proportions (left) were worked out retroactively to fit the bottom third that production had built in England.  ILM used as a point of reference a shot of the sandcrawler on a hill where its "headlights" could be seen, matching that to the miniature's.  Its mechanics were designed by Jamie Shourt, who installed an electrical system that supplied voltage to the treads based solely on how much was needed, there where would be no spinning wheels (below left).
From page 249 of The Making of Star Wars:
The United States Deserts

A few ILMers began construction of the alcove set on a small sound stage in Hollywood, while Grant McCune, Lorne Peterson, Joe Johnston, and others began photography of the miniatures on location.  "I think there were six trips made to the desert," Johnston says.  "Four were made just to shoot the sandcrawler; on two others they took the landspeeder along for canyon shots.  The sandcrawler was constantly breaking down: the tracks would jam, the treadw ould come off.  The sandcrawler probably ended up costing more per second than anything else in the film, because it involved taking that model, a camera, and a crew of six guys out to the desert, where they usually had to spend the night.  We left the model once in the van, and it got cold that night.  We were in a motorhome twenty yards away, but we could hear peices of styrene popping and cracking on the model."

On the first trip one of the sandscrawler's inner lightbulbs broke and they didn't have a replacement; the second time it was too windy and cloudy; on the third trip the lighting exposure was done incorrectly; only the fourth shoot was perfect.
The following photo is from page 250 of The Making of Star Wars:

The insert reads:
John Dykstra, Richard Edlund, and Grant McCune in the desert of Randsburg shooting the sandcrawler miniature.
Sculpting a Galaxy
The following photo is a two-page spread (pages 76-77) from Sculpting a Galaxy:

The insert reads:
JAWA SANDCRAWLER ILM Filming Model A New Hope
From page 76-77 of Sculpting a Galaxy:
Jawa Sandcrawler


Three of the original staff at ILM were licensed pilots and our facility just happened to be located near the Van Nuys airport.  John Dykstra, Bob Shepherd, and Grant McCune actually owned a plane, wo we'd spend the occasional lunch hour flying.  It wasn't all joyriding; we used the high vantage point to scout locations for miniature shoots.  On one such trip, the guys spotted the visually rich topography of the desert near Randsberg, not far from Lake Mirage.  The place was lined with mine tailings: runoff from the water pumps used to scour the area for valuable metals.  Pumped out by mining crews, incredible amounts of dirty sand would settle, sedimentary layer by layer, to resemble a miniature Grand Canyon with walls six to ten feet tall.  The mixtures of runoff gave the land a striated look, a perfect environment for our sandcrawler to explore.

The finished twenty-inch-tall model was a powerful thing.  With only its right side fully completed, the left half had a gap to access the heavy-duty motorcycle batteries running the treads.  The motorized model could pop a wheelie, or a rider could sit on it and drive him/herself around by remote control.  It may have been over-muscled, but that's a standard filmmaking precaution.  Without knowing exactly what the vehicle would be called to do, no one wanted to be in the position of having to say, "No, it can't do that."

The sandcrawler's boxy body was comprised of Finnish birch ply, with a steel structure supporting its lower portion.  The tail end had large cylinders taken from a Hawker Harrier VTOL jet models.  An illustration by Joe Johnston showed the forward sweep of the crawler's body consisting of irregular angles – planes that couldn't match up in real life.  Without compromising the integrity of the design, we made it work by adding another plane to connect it.  We discovered pretty quickly that a lot of things could be drawn on paper but couldn't necessarily be constructed in exactly the same way.  Regardless, capturing the feel and essence of the original illustration was always the ultimate goal.

Building the sandcrawler's caterpillar treads was quite a challenge.  Not only were there four sets of double tracks, but they also had to match a full-sized set of treads built in Tunsia – and they had to work.  Grant McCune, Bob Shourt, and Jamie Shourt puzzled out the mechanics and discovered that a model tank kit by Tamiya actually had functional metal treads.  The tread in the kit was only about one-and-a-half inches wide, so Steve Gawley had to create an additional inch.  Our versions were glued to the outside of the kit treads, retaining their structure and functionality but adding enough detail to make it uniquely a sandcrawler.

With 250 treads to fashion, the project was very labor-intensive.  I mentioned to production manager Bob Shepherd that it was a pitty we didn't have an injection molder, a device Jon Erland and I were quite familiar with in our industrial background but that wasn't typically found in effects facilities.  I told Bob it would make our work go much faster – and he exclaimed, "Get it!"  Without that essential tool at our disposal, those treads would have taken much longer to produce.  I was learning the old adage that time is money.

With the model now completed, we took the sandcrawler to Randsberg to shoot.  It's really only two shots: one driving away into the night after picking up R2-D2, and the other cresting a sand dune on the morning of the droid auction.  To capture the latter, we dug a hold two or three feet deep and placed the camera inside in order to achieve a convincing horizon line.  The hill it traversed was only three inches tall.  This shot would ultimately be replaced in the Special Edition with a more dynamic close-up of the sandcrawler.

John Knoll supervised that shot for the 1997 re-release.  A testament to his ability to problem-solve both practically and digitally, he calculated, at home, exactly how much miniature set would need to be constructed to accommodate the shot.  The virtual camera on his home computer plotted the sandcrawler's movements and determined what would be visible around it.  In the pre-digital age, we would likely have overbuilt the environment by twenty percent – a comfortable amount of desert landscape as wiggle room.  With Knoll's pre-visualization, he knew precisely what lens to use and what would appear in frame.

With his exact requirements, we arranged several tables of finely ground walnut shells for sand with two-to-three-pound density carved foam as rocky outcroppings.  We shot it outside on the roof of ILM, on a beautiful Marin County day, clear but for several perfectly placed cloud.  For the Special Edition, I made a little Jawa that fit into the sandcrawler's side hatch.  He was a little over half-an-inch tall.  I doubt whether anybody can actually see him, but he's there…
The following photo is a two-page spread (pages 78-79) from Sculpting a Galaxy:

eBay Sandcrawler – Original Sandcrawler: Photo Analysis
The eBay model is in the middle (backed in red) while the two photos of the original motorized model are top and bottom (backed in blue):

While the eBay model is a fine reproduction, it does not match the original LFL model in appearance, size, construction, or functionality.
eBay Sandcrawler – Original Sandcrawler: Key Differences Comparison
Original Sandcrawler:  Large Scale
eBay Sandcrawler:  Small Scale
Original Sandcrawler:  Motorized, Working
eBay Sandcrawler:  Non-Motorized, Non-Working
Original Sandcrawler:  One Side Finished
eBay Sandcrawler:  Both Sides Finished
Original Sandcrawler:  Large Scale
eBay Sandcrawler:  Small Scale
Original Sandcrawler:  Kit-Bashed & Scratch Built
eBay Sandcrawler:  Scratch Built
eBay Sandcrawler Provenance – Robert/Joel Diepenbrock
It seems that the seller of the eBay sandcrawler is speculating as to the authenticity of the model based on the name listed on the card accompanying the piece – Robert Diepenbrock (though the current listing gets the name consistently wrong as "Joel Diepenbrock"; also of note is that the city of origin changes between the January and July listings as well from Arizona to New Mexico).
Additionally, comparing the January listing and the current July listing, the seller seems to have adopted many different guesses and stories as to what the piece is (again, a violation of eBay policy for items in which authenticity is a variable that affects value).
I could find no Star Wars: A New Hope credits for Mr. Diepenbrock.
IMDb Listing: Robert Diepenbrock (LINK)
There is an IMDb listing for a Robert Diepenbrock, with one Art Department credit as a "model maker" for The Fifth Element.  There are no Star Wars credits.
IMDb Listing Archive:
Starship Troopers, Thunderstone Model Shop, ILM (LINK)
I did find at Turner Classic Movies a credit for Robert Diepenbrock as a "model maker" with Thunderstone Model Shop for Starship Troopers.  I understand Thunderstone Model Shop may be some sort of sister company to ILM, but have found no ILM credits for a Robert Diepenbrock.  More, none of the books referenced earlier in this article listed nor mentioned a Robert Diepenbrock with regard to Star Wars: A New Hope, though one in particular (Sculpting a Galaxy) lists names and photos of employees of Lucasfilme/ILM at the time of the production of the original 1977 film.
LinkedIn Listing:  Robert Diepenbrock (LINK)
There is a LinkedIn listing for a Robert Diepenbrock of BobCat Studios, a Media Production Design Consultant and Contractor in Phoenix, Arizona.
LinkedIn Listing Archive:
Coincidentally, this Robert Diepenbrock resides in Arizona – the eBay Sandcrawler seller claims in the January 2008 auction listing that he "got this from a guy in Arizona" (though in the current auction the seller claims "I bought it from a guy in Albaqurqe New Mexico").
BobCat Studios
The BobCat Studios website is: www.BobCatStudios.com
I found one applicable story in the Phoenix Business Journal (LINK):
Spielberg thanks BobCat

BobCat Studios has received a note of thanks from movie mogul Steven Spielberg for videotaping interviews with Holocaust survivors.

The Chandler firm, which provides graphic design, film and TV production services, taped almost 30 interviews of Holocaust survivors in Phoenix and Tucson for the Survivors of the Shoah Visual History Foundation. The foundation was formed after Spielberg, fresh from filming Schindler's List, decided there was a need to capture and preserve the stories of Holocaust survivors. The unedited interviews will be compiled and digitally stored in selected repositories around the world.

BobCat producer/director Robert Diepenbrock was more than willing to help the foundation, especially since he worked with Spielberg as a special effects technician on E.T. — The Extra Terrestrial.

"It just struck me as a way to be involved on a local level in something that was worldwide," Diepenbrock said. "You don't get an opportunity to do that very often."

BobCat received a small fee for use of its equipment, but donated its services.
eBay Listing Marketing, Logic, Authentication Process
What I find most troublesome about this listing is the method by which authenticity, as articulated by the seller, is an exercise in gambling and statistics, not to mention hype ("NOTHING LIKE THIS EXISTS IN THE KNOWN UNIVERSE").
The seller presents three "scenarios" – all of which discount the facts as presented in the referenced works that are publicly available to anyone who elects to seek out information about original Star Wars props.
One of the consistent facts presented within these books is that there was 1) one prototype sandcrawler (not filmed), 2) one scale motorized and remote controlled model, and 3) one partially built 1:1 set piece.  Apart from the 1:1 shots, the single scale, motorized model was employed in all other shots – and was even reused in the 1997 Special Edition reshoot, 20 years later.  According to these sources, no other model was filmed, and the motorized, one-sided model is still owned by Lucasfilm.  In fact, the model was recently on public display at the Museum of Science in Boston for the "Star Wars: Where Science Meets Imagination" touring exhibition.  There are some fantastic high resolution photos at Forbidden Plastic (LINK).
Getting back to the seller scenarios ("25%", "70%" and "5%"), based on the facts, it is possible that all three scenarios, as devised by the seller, are incorrect.
If the attribution on the display card is correct, it is possible that this model was built by professional model maker Robert Dienpenbrock, who now owns BobCat Studios – but not as employed by ILM for the production, Star Wars: A New Hope – but in the context of a hobbyist pursuit.
In any event, authenticity has not been proven by the seller, and the facts as presented in the official Star Wars publications run counter to the marketing of this model on eBay as an "original prop" and "pre-production model" with no substantive proof to support those claims.
In that Mr. Diepenbrock's contact information is publicly available, it is possible to send him an e-mail message to see if he recalls building a sandcrawler model and under what context.
Jason De Bord