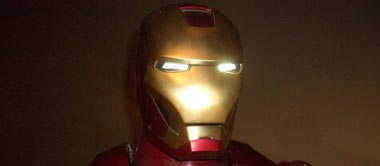 As reported about a week ago, The International Make-Up Artist Trade Show was held at the Pasadena Convention Center in Los Angeles – June 21-22, 2008. Make-Up Artist Magazine and Stan Winston Studios  assembled a large museum display of Stan Winston creations in tribute to the late Academy Award-winning special effects and make-up artist.  Brandon Alinger of The Prop Store of London attended and sent me photos to share with OPB readers:
EDIT: Clarified the attributions/contributions of pieces seen in the photos below with guidance from Ron Magid (thanks, Ron!)
Click each photo for full resolution:
The following pieces are from Stan Winston Studios
The following pieces are from other artists/studios:
Brown Tom, Legend (Rob Bottin)
Top Shelf:

2001: A Space Odyssey Moonwatcher Make-Up (Stuart Freeborn)

What's Eating Gilbert Grape? Leonardo DiCaprio mouth prosthetic (Rodd Matsui)

Star Trek (TOS) Nimoy Spock Ears (John Chambers, Fred Phillips)

Phantom of the Paradise Record Press Make-Up (Tom Burman)

Abbott and Costello Meet Frankenstein Wolf Man prosthetic (Bud Westmore after Jack Pierce)

Top Shelf, Front Row:

The Exorcist Max Von Sydow Prosthetic Age Make-Up (Dick Smith)

The Exorcist Linda Blair Possessed Regan tongue prosthetic (Dick Smith)

Bottom Shelf:

The Thing Hand (Lee Greenway)

The Time Machine (1960) (Bill Tuttle, Charles Schram)
The Stupids Dog Stop Mo Puppet Replacement Snouts (Chiodo Bros.)
Cloverfield Dead Soldier (Creative Character Engineering)
Beneath the Planet of the Apes Mutant Make-Ups (John Chambers)
Planet of the Apes Make-Ups (John Chambers)
The Last Starfighter Grig Make-Up (Terry Smith)

"V" Alien Babies (Leo Le Tito, Overall Make-Up Supervisor)
Chipmunks (Chiodo Bros.)
I Am Legend Silicon Head (Tatopoulos Studio)
Chronicles of Narnia: Prince Caspian (KNB Studios)
Thanks again to Brandon for sharing the photos and Ron for the details on all of these pieces collected for this exhibit and the people behind them.
Jason De Bord