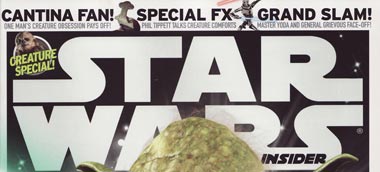 The July/August issue of Star Wars Insider magazine (#102) has a feature written by good friend Tom Spina as well as related articles of interest to original prop collectors.
Other articles in the issue are about key creators who helped realize characters and creatures in the original Star Wars include "Creature Creator" about Phil Tippett, "Master and Apprentice" showcasing the contributions of Nick Dudman, and "The Man Behind The Monsters" focused on Stuart Freeborn and his work creating iconic Star Wars characters such as Yoda, Chewbacca, Jabba the Hut, the cantina aliens, and more.
I would recommend picking the issue up at newsstands. Here is a preview of the first two pages of the Tom Spina feature "Monster Mash":

Learn more about the Insider at TitanMagazines.com.
For more about Tom, you can read the OPB Featured Interview and check out his websites:


I asked Tom is there is any Tom Spina Designs news, and this is his response:
In appreciation of all our clients and those who've supported us, we're pleased to offer FREE U.S. SHIPPING through July 4th on our display heads and helmet stands. This includes our adjustable and deluxe display stands, flocked heads w/acrylic bases and all flocked and styrofoam heads (both individually and by the case).

Free shipping is only available for the items on this page:

The sale ends July 4th so order today. Items purchased as part of this sale will ship in 4-6 weeks. This is a cost-effective way to greatly improve the display of your masks, helmets, hats, wigs and movie props!

Thanks again for all the support!

Tom
Congrats to Tom for his nice feature in the Insider.
Jason De Bord