This is a review of The Complete Making of Indiana Jones (published May 20, 2008). This is "the" must have book for any fan of the Indiana Jones films – if you are only interested in one book on the property, this is it.
This work delves into every facet that would interest readers, including the origins of the films, interviews of all the key principals, "making of" segments, a focus on each of the four films, and tons of photos and images. Like "The Making of Star Wars" (see OPB Book Review) which was published about a year ago and by the same author – J.W. Rinzler – this is a true archive of information and visuals and should be particularly valuable to original prop collectors.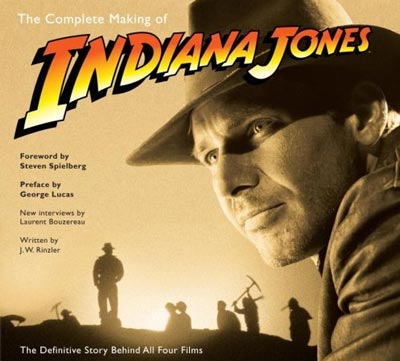 Overview (from the publisher)
Product Description
From Raiders of the Lost Ark to The Kingdom of the Crystal Skull
The man with the hat is back-in the definitive behind-the-scenes look at the Indiana Jones epic action saga.

When George Lucas and Steven Spielberg put their heads together to create a no-holds-barred action-adventure movie, bigger-than-life hero Indiana Jones was born. The rest is breathtaking, record-breaking box-office history. Now comes an all-new Indiana Jones feature film: Indiana Jones and the Kingdom of the Crystal Skull. Here's your chance to go on location for an up-close, all-access tour of the year's most eagerly anticipated blockbuster, as well as the classics. The Complete Making of Indiana Jones is a crash course in movie magic-making-showcasing the masters of the craft and served up by veteran entertainment chroniclers J. W. Rinzler and Laurent Bouzereau. Inside you'll find:

exclusive on-set interviews with the entire cast and crew of Indiana Jones and the Kingdom of the Crystal Skull, including Harrison Ford, Shia LaBeouf, Cate Blanchett, Ray Winstone, and John Hurt-plus director Steven Spielberg, executive producer George Lucas, screenwriter David Koepp, and the incredible production team that built some of the most fantastic sets ever
hundreds of full-color images-from storyboards, concept paintings, and set design schematics to still photos from all four films with candid action shots of the productions in progress
an in-depth chronicle of the making of the first three Indiana Jones movies-Raiders of the Lost Ark, Indiana Jones and the Temple of Doom, and Indiana Jones and the Last Crusade-including transcripts of the original concept meetings, cast and crew anecdotes, production photos, and information on scenes that were cut from the final films
never-before-seen artwork and archival gems from the Lucasfilm Archives
and much more!

Don't miss the thrilling new movie or this definitive making-of opus. It's as essential to fans as that trusty bullwhip is to Indy!

About the Author
J. W. Rinzler, executive editor at Lucasfilm Ltd., is the author of the New York Times bestseller The Making of Star Wars, as well as The Art and Making of Monster House and Creating the Worlds of Star Wars, which he co-authored with visual effects supervisor John Knoll. J. W. Rinzler lives in Petaluma, California.

Laurent Bouzereau is an award-winning documentary filmmaker and author. Born in France, he now lives in Los Angeles, California.

Book Facts (from the publisher)
# Paperback: 300 pages
# Publisher: Del Rey (May 20, 2008)
# Language: English
# ISBN-10: 0345501292
# ISBN-13: 978-0345501295
# Product Dimensions: 11.3 x 10.2 x 1 inches
Written Content (10/10)
As was the case with the aforementioned Star Wars "bible" from the same author, this is the most impressive and comprehensive Indiana Jones resource I have ever laid hands on. More, since there are far, far fewer books that focus on the Indiana Jones films, this one is that much more impressive, since so much of what has been presented has never been previously available in other forms.
There is an extensive amount information, narrative, background, insights, opinions, and more.
Given the amount of ground that is covered, the book invites the reader to read out of sequence and flip around on based on their own interests.
Overall, it is full of information and absolutely comprehensive, and what is presented reflects the amazing level of access the people behind the production of the book had in order to realize their vision of the finished product.
Visual Collateral (10/10)
This work is filled cover to cover with an astounding collection of visual collateral – photos and illustrations fill every page, and the visual collateral is probably weighted slightly heavier than the written words.
Of interest to readers of the OPB, there are a number of prop and wardrobe related photos as well.
I could go into more detail, but quite frankly, this is about as good as it gets.
Presentation/Quality (9/10)
It's a nice-looking, squareish softcover book with no jacket. I usually take the jacket off right away (I find them annoying). Some might prefer a hardcover for this type of book, but I personally like them to read, not to showcase, so I better appreciate the softcover format just because it is more practical (and lighter).
The interior pages are of a high quality, and I get the impression it will hold up to handling quite well. Again, not of the "fingerprint magnet" variety (my biggest pet peeve with books – designed so as to discourage handling!).
The content of the book is laid out in good order and there is are photos on every page in the book. As noted, information and visuals are approximately balanced, erring toward more visual than written words.
Given the overall length of the book (300 pages), it is generally ordered in sequence by the four films (Raiders of the Lost Ark, Temple of Doom, The Last Crusade, Kingdom of the Crystal Skull), then further broken down from there.
It has a fairly deep and functional index, which is always a plus.
In summary, it is a beautiful "coffee book-style" piece that is difficult to put down once you start flipping through it.
Here are some random sample spreads of the book, to give an idea of layout and flow:

Overall Value (10/10)
The retail price is $35 – much less than the $75 for the Making of Star Wars book, which is a bargain, though the Star Wars book was a little longer in page count and hardcover.
Given that it can be had via Amazon.com for under $25 and deeply discounted at other retailers as well, I think it is well worth the price of acquisition. It is a wealth of information, in a high quality book, with all full color photos throughout.
Conclusion and Overall Rating (10/10)
I would characterize this book as a "must have" for any Indy fan. It is a fantastic book with an incredible about of both written and visual content, most of which I've never seen in any other work. And at under $25, it is a must have. Quite honestly, a work with just the photos or just the narrative/editorial content would be worth the price of admission.
There are a number of other Indy books hitting the shelves with the release of Kingdom of the Crystal Skull, many of which I've purchased, but this is the one to get.
Jason De Bord