A reader of the Original Prop Blog directed my attention to a current eBay auction offered by Auction Depot LA with a Global Antiques COA titled: "ORIGINAL CONTEX ADDING MACHINE OWNED BY AL CAPONE +COA"
This seller and consignor/authenticator have already been topics of past articles:
"Gone With The Wind, Global Antiques, and Auction Depot LA"
"Global Antiques, Auction Depot LA – Reader Experience With "Original" Casablanca Prop"
"I Love Lucy, Global Antiques, and Auction Depot LA"
"Thomas Edison, Global Antiques, and Auction Depot LA"
"Mark Twain, Global Antiques, and Auction Depot LA"
As discussed in the previous articles, "Auction Depot LA" (auctiondepotla1 on eBay) offers a large number of items on a regular basis (nearly 200 items are currently live on eBay in the "Collectibles" category of their eBay store, as of the writing of this article).
These collectibles, attributed to film/television use and/or ownership by Hollywood stars and public/historic figures, are apparently consigned and authenticated by "Global Antiques" (also referred to as "City of Los Angeles Global Antiques").
For example, many of these items are described as "original" and "authentic" props from "Gone With The Wind", "The Wizard of Oz", "Casablanca", "I Love Lucy", "Star Trek", "James Bond", "Lord of the Rings", and other films and television programs, as well as many collectibles and antiques marketed as owned by John Wayne, Marilyn Monroe, Lucille Ball, and other classic and iconic Hollywood stars as well as objects previously owned by public figures such as Sigmund Freud, Mark Twain, Thomas Edison, Al Capone, Andy Warhol, and others.
While the following auction is not a movie or television prop, it is another piece offered for sale to the public by Auction Depot LA with a Certificate of Authenticity from the same source/authenticator, also described as "curator" in the listings, "City of Los Angeles Global Antiques".
Adding Machine Owned By Al Capone
"ORIGINAL CONTEX ADDING MACHINE OWNED BY AL CAPONE +COA" (eBay Item #310045236161)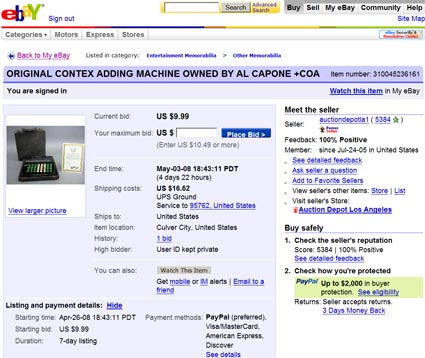 High Resolution Full Auction Archive: eBay Listing – auctiondepotla1 "ORIGINAL CONTEX ADDING MACHINE OWNED BY AL CAPONE +COA"
This is the marketing description for the item:
DESCRIPTION
You are looking at an ORIGINAL CONTEX ADDING MACHINE OWNED BY AL CAPONE +COA.
Now is your chance to own a piece of Celebrity history!!
Product Details:

ORIGINAL CONTEX ADDING MACHINE +COA
OWNED BY AL CAPONE

Frequently Asked Questions

Q:Do you have any more information about this item?
A: Since this item was pulled from a large vault of celebrity property, exact details are not available. It may be recognized as something personally worn by the celebrity or it may be personal property never seen by the public.
Q: How do I know this prop is authentic?
A: Global Antiques is the curator of all of the props available for auction through Auction Depot LA. They acquire these props from collectors and studio personnel. The item is authenticated by Global Antiques after its provenance has been validated and certified. Every prop we sell is accompanied by a Silver or Gold Certificate of Authenticity. No other documents are included with the auction.

Q: How can I contact Global Antiques or the original owner?
A: We act as an agent for Global Antiques and would be happy to answer any other questions you have. We cannot disclose contact info for our private sellers but you are welcome to call us toll free at (877) 337-6852

INCLUDED IN THIS AUCTION
ORIGINAL CONTEX ADDING MACHINE OWNED BY AL CAPONE

Certificate of Authenticity Global Antiques, Los Angeles
CONDITION

Appearance: Used as personal property of Al Capone. Item shows signs of use and aging. Case is beat up and has some hard liquid dried to it.(refer to pics) Not sure if item works properly.


DIMENSIONS

Width: 10″
Height: 34
These are the details of the "Certificate of Authenticity (City of Los Angeles, Global Antiques)":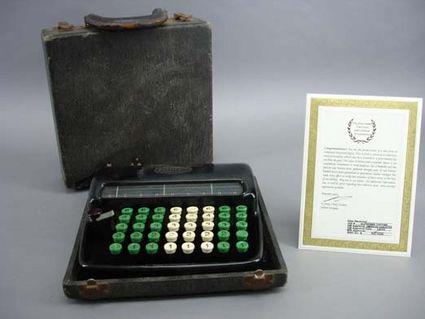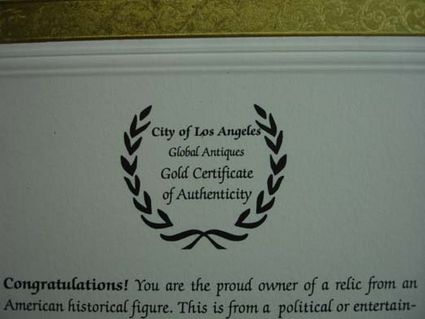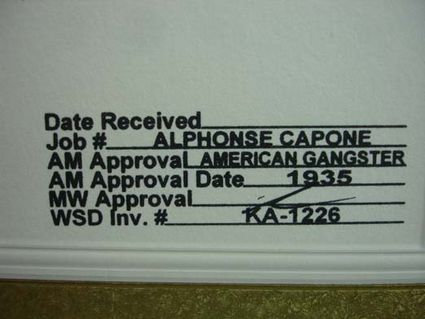 The COA cites "ALPONSE CAPONE", "AMERICAN GANGSTER", with an "AM Approval Date" of "1935″.
Per Wikipedia (LINK):
Alphonse Gabriel Capone (January 17, 1899 – January 25, 1947), popularly known as Al Capone or Scarface, was an Italian American gangster who led a crime syndicate dedicated to the smuggling and bootlegging of liquor and other illegal activities during the Prohibition Era of the 1920s and 1930s.
It is a matter of record that Mr. Capone passed January 25, 1947.
Wikipedia also makes note of Al Capone's poor mental and physical health in his final years (see "Physical decline and death"):
Capone's control and interests within organized crime had decreased rapidly after his imprisonment, and he was no longer able to run the Outfit after his release. He had lost weight, and his physical and mental health had declined, most noticeably with the onset of dementia. On January 21, 1947, Capone had an apoplectic stroke. He regained consciousness and started to improve but contracted pneumonia on January 24, and suffered a cardiac arrest the next day (possibly associated with the complications of third-stage neurosyphilis).
More detail can be found on the website of the Federal Bureau of Investigation (see FBI.gov):
On November 16, 1939, Al Capone was released after having served seven years, six months and fifteen days, and having paid all fines and back taxes.

Suffering from paresis derived from syphilis, he had deteriorated greatly during his confinement. Immediately on release he entered a Baltimore hospital for brain treatment, and then went on to his Florida home, an estate on Palm Island in Biscayne Bay near Miami, which he had purchased in 1928.

Following his release, he never publicly returned to Chicago. He had become mentally incapable of returning to gangland politics. In 1946, his physician and a Baltimore psychiatrist, after examination, both concluded Al Capone then had the mentality of a 12-year-old child. Capone resided on Palm Island with his wife and immediate family, in a secluded atmosphere, until his death due to a stroke and pneumonia on January 25, 1947.
The item offered for sale on eBay is an "ADDING MACHINE", manufactured by Contex, with no noted date of manufacture:

However, in reviewing the photos provided in the auction, the mechanical adding machine appears to be a "half keyboard adder", "Model A" produced by Danish company Contex.
Different sources site different manufacture dates for similar machines.
Calculi.nl (LINK) – "1949":

Contex Mechanical adder – Brdr. Carlsen A/S Birkerød, Denmark 1949.

The light-weight machine has a bakelite cover. With the keys, in a matrix of 5×8 digits, the mechanism is directly operated and the results are displayed.
tfh-berlin.de (LINK) – "'50s and '60s":
Two lines of interesting and innovative mechanical calculators came on the market under the name » CONTEX « in the '50s and '60s :
The first was a key-driven adding machine in style of a Comptometer, with a "half" keyboard and simplified mechanism. The CONTEX-A was an "open" version and came either in bakelite or in plastic like these
bakelite_world_2001.tripod.com – "1950's" (LINK):

Contex Mechanical Adding Machine 1950's Sterling model

A nice early bakelite adding machine, Made in Denmark during the late 1950's, good solid bakelite body. This particular model was made for the British market and is pre decimal. Calculates in Pounds, Shillings and pence
rechenmaschinen-illustrated.com (LINK 1, LINK 2) – "1949":
Contex A: prod. years around 1949
home.vicnet.net.au (LINK) – "1946-60":
"Contex" Half-keyboard Adder, Model A
Manufactured: Denmark, 1946-60
A Contex all-decimal machine from the days of Sterling currency. The grouping of the right-most columns into thousands rather than hundreds suggests that this machine was intended for technical rather than financial calculations.
web.telia.com (LINK) – "from the 1950s":
The Danish Contex is a simple adding machine with 'half keyboard', i.e. with only the digits from one to five. Larger numbers had to be entered by consecutive addition, e.g. 345 + 111 for 456. A skilled user, however, could easily perform multiplication – and even division – by repeated addition (see examples on the Comptometer page).
Manufactured by the Carlsen Brothers in Denmark, the Contex was sold by Zeuthen & Aagaard, which company is best known for its duplicators and office dictating machines, which were marketed under the 'Rex-Rotary' brand name. The machine illustrated above is a Contex A from the 1950s, made entirely of bakelite.
Jason De Bord