A reader of the Original Prop Blog directed my attention to a current eBay auction offered by Auction Depot LA with a Global Antiques COA titled: "ORIGINAL SALT/PEPPER SHAKER OWNED BY THOMAS EDISON +COA"
This seller and consignor/authenticator have already been topics of past articles:
"Gone With The Wind, Global Antiques, and Auction Depot LA"
"Global Antiques, Auction Depot LA – Reader Experience With "Original" Casablanca Prop"
"I Love Lucy, Global Antiques, and Auction Depot LA"
As discussed in the previous articles, "Auction Depot LA" (auctiondepotla1 on eBay) offers a large number of items on a regular basis (over 100 items are currently live on eBay in the "Collectibles" category of their eBay store, as of the writing of this article).
These collectibles, attributed to film/television use and/or ownership by Hollywood stars and public/historic figures, are apparently consigned and authenticated by "Global Antiques" (also referred to as "City of Los Angeles Global Antiques").
For example, many of these items are described as "original" and "authentic" props from "Gone With The Wind", "The Wizard of Oz", "Casablanca", "I Love Lucy", "Star Trek", "James Bond", "Lord of the Rings", and other films and television programs, as well as many collectibles and antiques marketed as owned by John Wayne, Marilyn Monroe, Lucille Ball, and other classic and iconic Hollywood stars as well as objects previously owned by public figures such as Sigmund Freud, Mark Twain, Thomas Edison, Al Capone, Andy Warhol, and others.
While the following auction is not a movie or television prop, it is another piece offered for sale to the public by Auction Depot LA with a Certificate of Authenticity from the same source/authenticator, also described as "curator" in the listings, "City of Los Angeles Global Antiques".
Salt/Pepper Shaker Owned By Thomas Edison
"ORIGINAL SALT/PEPPER SHAKER OWNED BY THOMAS EDISON +COA" (eBay Item #320244375763)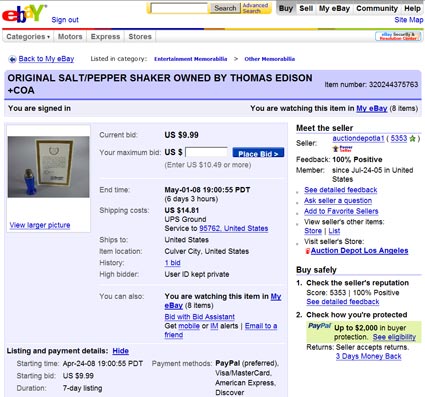 High Resolution Full Auction Archive: eBay Listing – auctiondepotla1 "ORIGINAL SALT/PEPPER SHAKER OWNED BY THOMAS EDISON +COA"
This is the marketing description for the item:
DESCRIPTION
You are looking at an ORIGINAL SALT/PEPPER SHAKER OWNED BY THOMAS EDISON + COA.
Now is your chance to own a piece of Celebrity history!!
Product Details:

Owned by Scientist, Thomas Edison
Glass Material
Salt/Pepper Shaker
Frequently Asked Questions

Q:Do you have any more information about this item?
A: Since this item was pulled from a large vault of celebrity property, exact details are not available. It may be recognized as something personally worn by the celebrity or it may be personal property never seen by the public.
Q: How do I know this prop is authentic?
A: Global Antiques is the curator of all of the props available for auction through Auction Depot LA. They acquire these props from collectors and studio personnel. The item is authenticated by Global Antiques after its provenance has been validated and certified. Every prop we sell is accompanied by a Silver or Gold Certificate of Authenticity. No other documents are included with the auction.

Q: How can I contact Global Antiques or the original owner?
A: We act as an agent for Global Antiques and would be happy to answer any other questions you have. We cannot disclose contact info for our private sellers but you are welcome to call us toll free at (877) 337-6852

INCLUDED IN THIS AUCTION
ORIGINAL SALT/PEPPER SHAKER OWNED BY THOMAS EDISON

Certificate of Authenticity Global Antiques, Los Angeles)
CONDITION

Appearance: Used as personal property of Thomas Edison. Signs of use.

DIMENSIONS

Width: 1.5″
Height: 4.5″
These are the details of the "Certificate of Authenticity (City of Los Angeles, Global Antiques)":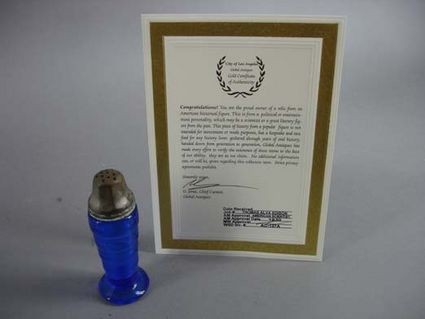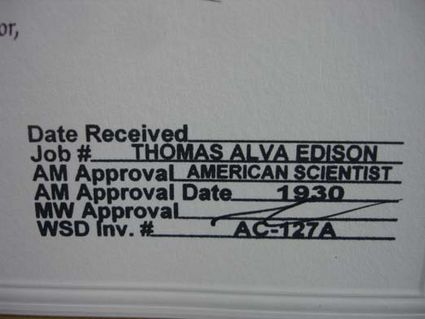 The COA cites "THOMAS ALVA EDISON", "AMERICAN SCIENTIST", with an "AM Approval Date" of "1930".
Per Wikipedia (LINK):
Thomas Alva Edison (February 11, 1847 – October 18, 1931) was an American inventor and businessman who developed many devices that greatly influenced life around the world, including the phonograph and a long lasting light bulb.
It is a matter of record that Mr. Thomas Edison passed in 1931.
The item offered for sale on eBay is an "Original Salt/Pepper Shaker", with no manufacturer or date of manufacture noted.
However, in reviewing the photos provided in the auction, the shaker appears to be a "Moderntone Cobalt Blue Depression Glass Salt Shaker".
If one performs a Google search on these terms, there is a wealth of information about this series of vintage glass: Google Results
There is an excellent article about Hazel Atlas Glass Company and their Moderntone line available at JustOldGlass.org: "Moderntone", by Rosemary Trietsch
Here is an excerpt:
Moderntone was produced from 1934 to 1942. The earliest production was probably crystal as we know that Hazel Atlas didn't produce Ritz blue (cobalt) much earlier than 1936.
According to this expert, as well as many other references on the Internet ("Hazel Atlas Ribbed and Scalloped Depression Glass Patterns", "Moderntone Production Glass", "Moderntone by Hazel Atlas Glass Company"), Moderntone was produced no earlier than 1934 – three years following the death of Mr. Thomas Edison.
auctiondepotla1 "Seller Newsletter"
I few days ago, I elected to add eBay seller auctiondepotla1 to my "Favorite Sellers and Store" list in "My eBay". Interestingly, I received the following message: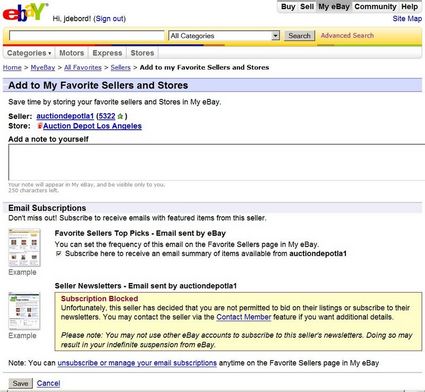 High Resolution Archive: eBay Subscription Blocked
Text:
Subscription Blocked
Unfortunately, this seller has decided that you are not permitted to bid on their listings or subscribe to their newsletters. You may contact the seller via the Contact Member feature if you want additional details.

Please note: You may not use other eBay accounts to subscribe to this seller's newsletters. Doing so may result in your indefinite suspension from eBay.
For the record, I have never transacted with Auction Depot LA (auctiondepotla1) nor have I ever placed a bid on any of their listings.
Jason De Bord