As reported a month ago, Barrett-Jackson is holding a Collector Car Event in Palm Beach, Florida from March 26-30, 2008. This auction includes 600 vehicles at auction, all no reserve, broadcast on Speed .
The auction includes some cars used in television programs, including 13 cars from The Sopranos and "Super KITT" and "Attack Mode KITT" from the recent Knight Rider NBC special which aired last month.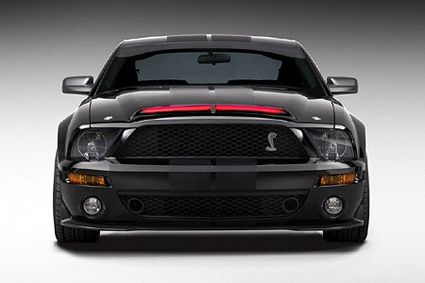 Per AutoBlog.com, the pair of KITT cars sold for $300,000 (see "Pair of KITTs, right to last KR sells for $300,000 at Barrett-Jackson"). The site reports, in part:
The auction, which will donate all proceeds to the Salute to Education charity, started slowly but climbed steadily to $160,000. At that point, Mark Fields of Ford got on the microphone and announced the winning bidder would also get the rights to a single allocation of the 1576 GT500 KRs. That doesn't mean they would get the car for free but at msrp – a significant savings. With that announcement, the bidders had renewed interest and the highest bid climbed up to $240,000. However, Ford and Shelby had one more twist. The single GT500 KR allocation was not just a random KR. It would be the LAST KR produced in 2009 – #1576. At that point, the bidding turned into a fight for the last KR and the two KITT movie cars were forgotten. The final bid ended at an even $300,000, with the winner writing a check directly to charity.
Obviously, given the circumstances, it's hard to say what the true market value of the two KITT cars are, outside of the other bidding incentives, but per this report, bidding seems to have stalled out at around $160,000 before the bonus elements were added in.
I have not learned the results of the other cars attributed to film and television.
Jason De Bord