This is an update to the article posted this morning about the prop listed on eBay last month that was marketed as "used in the movie gremlins" that was "acquired directly from Warner Bros". This item was listed and relisted by eBay member slimerhead13 and appears to have been purchased by eBay member ovie86 and listed yet again yesterday (AUTHENTIC Screen Used Gremlins Head Prop Puppet RARE!!! (eBay Item #220217619870)).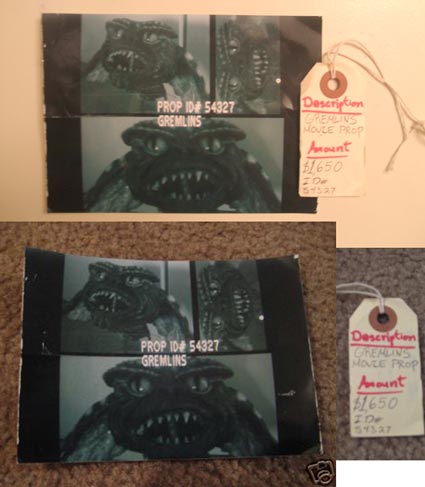 (slimerhead13 top, ovie86 bottom: "NOT the same prop"?)
What was most curious about the new offering is how it is marketed by the reseller, who appears to have acquired it himself on eBay mere weeks ago:
"I purchased this about 12 years ago from a screen used backlot sale in Hollywood for $1,650.00."

"I have NEVER seen anything like this offered on ebay before and this will likely be the last time!"

"I took the prop to the Fangoria World Horror Convention back in 1999″
As explained in the previous auction, the last eBay Feedback received by both slimerhead13 and ovie86 are from each other, with current seller ovie86 reviewing his purchase from slimerhead13 by commenting "Great Gremlin! You rock man!".
As mentioned in the prior article, I had sent ovie86 an "Ask Seller A Question" message through the eBay system inquiring about this, but did not receive a response until after publishing the article this morning:
Dear jdebord,

No, if you take a look at the other auction that is NOT the same prop I have. Be warned about those sellers with 0 or 2 or 3 feedback selling out of Ft. Worth and Dallas Texas. They are selling FAKE fanmade gremlins props. Ask anyone and they will tell you as I have seen a few of those auctions pass by the past year. Also, if they say that have a Warner Brothers COA that is a COMPLETE FAKE. Warner Brothers did NOT offer COA's for their props and I have never once even heard of Warner Brothers ever selling Gremlins props. I have been collecting props for years and ask any Gremlins collector and they will tell you the exact same thing I have. Hope this helps! Thanks!!
– ovie86
My question and his answer do not appear among those shown in the listing Q&A (LINK), though others have, before and since our exchange.
I replied (nearly 12 hours ago), with a link to the first article and an invitation to publish a response, but none was given, nor any reply to my follow-up questions.
Per the Q&A:
I am basically just taking the best offer on the Gremlin head so far right now. I have already had people email me so feel free to make an offer and I will get back with you IMMEDIATELY. Thanks!! Chris
Jason De Bord