The latest issue of the San Fernando Valley Business Journal, available today, features an article about original movie memorabilia auctions. Focused primarily on Profiles in History's Joe Maddelena and their "Hollywood Auction 31" event at the end of the month, it also remarks on the Guernsey's "The Pugliese Pop Culture Collection" held over the weekend, the ongoing NBC Universal online auctions, and David Jackson's Back Lot Props.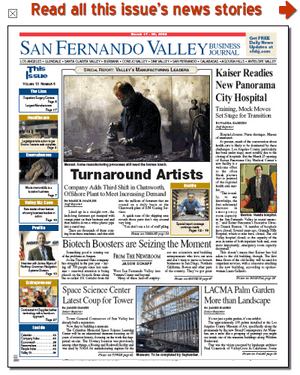 In my discussion with the reporter, Mr. Madler, the main points I covered that did not make the final story concerned the risks of collecting original film and television memorabilia and caveats for collectors and possible new entrants to the hobby, who might be enticed by the notion of buying such pieces with an aim toward making easy money reselling them. Of course, issues of provenance and authenticity are very critical and directly affect value and resale, and this pursuit truly requires a great deal of time, research, and dedication, as well as networking with other collectors and industry professionals.
The full article can be found at the SFVBJ.com website (LINK):
Memorabilia Auctions Put A Price Tag on Nostalgia

By Mark R. Madler

Joe Maddalena makes his living selling memories.

Not the universal memories of birthdays, graduations or weddings but those evoked by props or costumes from a favorite television series or movie.

Does the blue overcoat worn by Julie Andrews in "Mary Poppins" cause a flashback of a bygone Saturday matinee? Maddelena has it. How about a rattan chair used in "Casablanca" or original scripts to the "Dr. No" and "Goldfinger?" Ditto.

"People, I find, really want to be surrounded by things that make them happy," said Maddalena, who operates high-end auction house Profiles in History in Calabasas.

Of course, purchasing these memories comes at a price that proves lucrative for Maddalena and other dealers of Hollywood memorabilia and collectibles. So much so that even the major studios from time to time have auctioned off clothing and props themselves, with a part of the proceeds often going to charity.

Profiles' next auction taking place later this month is expected to reap $4 million from the 1,100 items up for sale. In past years, Profiles in History has brought in double-digit revenues.

Hollywood: Selling history and memories.
After so many years brokering sales of Hollywood memorabilia, Maddelena is at the point where he is expected to have the high-end items.

Type in "Hollywood memorabilia auctions" into the Google or Yahoo! search engines and chances are Profiles in History will come up at the top of the results.

Sotheby's and Christie's have far greater worldwide reputations yet are not usually called when an owner wants to auction elaborate science fiction props designed by Stan Winston or when a private collector wants to cash in the first Irving G. Thalberg Memorial Award given out by the Academy of Motion Picture Arts & Sciences.

Maddalena has done a great job in carving out his own niche, said David Jackson, of Back Lot Props in Northridge, who once outbid Maddalena for a Han Solo blaster from "Star Wars."

The main focus of Back Lot Props is in purchasing complete sets, costumes and props from the major studios that are then rented out. Jackson does operate a small memorabilia division with items offered on eBay and has plans for a retail store.

Back Lot found its niche in acquiring entire productions just as the high-end, one-of-a-kind item has been claimed by Profiles in History.

"We buy a complete production so that it allows everybody to find something they could afford, whereas some of Joe's things tend to be on the elite side," Jackson said.

Being located in Los Angeles has the advantage of making it easier for entertainment industry professionals to use Profiles in History as a third-party seller, said Jason De Bord, a memorabilia collector and writer for the website OriginalPropBlog.com who has sold a couple of items through Profile in History.

Private collectors in other part of the country have other options, like Florida real estate developer Anthony Pugliese who sold his pop culture collection through Guernsey's in a Las Vegas auction on March 15 and 16.

"It will be interesting to see if the market can absorb so many high end pieces because it is still a small hobby and the items are very expensive," De Bord said. "I don't think we've had two big events like this in one month where there is so much stuff going back into the marketplace."

Business or Hobby?

Whether dealing in Hollywood memorabilia is a business or a hobby depends on which side of the equation one stands.

De Bord buys, only occasionally selling a rare item in order to fund another purchase, so it's less of a business.

Maddalena sells, so he never refers to it as a hobby.

As a teenager whose parents were antique dealers, Maddalena saw the potential in the commercial side of selling nostalgia. While a student at Pepperdine University he scoured Hollywood shops for rare and collectable books for sale on the East Coast.

In those pre-Internet days, he assembled a catalogue that went to a group of friends. When the number of buyers snowballed, a career opportunity presented itself. Maddalena started Profiles in History in 1985 and was located in Beverly Hills for two decades before relocating to Calabasas a year ago.

The firm still uses catalogues for the auctions taking place three to four times a year. The Internet allows a global reach for the items it offers.

The online approach is how NBC Universal makes available props and clothing worn in its television series. The network began its auctions in December and this month offered items from "Law and Order," "Heroes," and "Friday Night Lights."

Fifteen percent of the proceeds from the sales went to the United Way.

Making these items available was a response from fans of the shows, said Stacey Ward, director of NBC Universal Television DVD, Music and Consumer Products Group.

"They have such an attachment to it that it gives us another way to interact with the fans," Ward said. "It gives the viewers and fans a feeling they are part of the show."

Preserving History

It's not all about nostalgia or emotional attachment.

Only about half of Maddalena's business deals with Hollywood – the other half of his business is focused on historical documents and autographs.

Sometimes, though, the two sides meet.

An item such as the first of three Thalberg Award statuettes given to Darryl Zanuck in 1937, included in this month's auction, has more history attached to it than a background prop. The award is not given every year and recognizes an industry figure for their body of work and contributions to Hollywood.

Maddalena has valued the award at $150,000 but admits it is hard to gauge the real value because this will be the first time the award has ever been sold.

This is a different kind of purchase with a different kind of buyer.

Nostalgia, Maddalena said, goes out the window.

"This will go to a more sophisticated buyer who understands the (historical) significance," Maddalena said.

Staff Reporter Mark Madler can be reached at (818) 316-3126 or by e-mail at mmadler@sfvbj.com.
Jason De Bord