The Movieum of London, "a museum that celebrates the UK film industry", officially opens tomorrow night.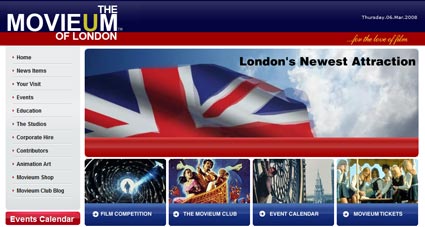 The museum describes it's mission and purpose as follows:
Finally – a museum that celebrates the UK film industry. The Movieum is a movie museum that goes behind-the-scenes of the British film industry, showcasing the great UK talent that has produced some of the world's most famous movies, whilst at the same time displaying the wonderful creative process that they are part of. From the history of Pinewood and Elstree Studios, through to the individual departments that come together to create a film, including Special Effects, Animatronics, Make Up, Wardrobe and much more, there is something for everyone in this entertaining and educational experience. Featuring real sets, props and movie equipment, unseen behind-the-scenes footage, and a walk through the film making process. Created by Weird & Wonderful, The Movieum is part of a new breed of interactive based attractions and a new destination for all the family in Central London.
Contributors include:
Canal+Image UK
Lucasfilm Ltd
Warner Brothers
Granada International
Weird & Wonderful Limited
Film 24
Turner Classic Movies
The Prop Store of London
Rick Senat
Morris Bright
Brian Johnson
Stuart Freeborn
Nick Dudman Creature supervisor Harry Potter
Gerry Anderson
Derek Meddings Biographers
Simon Atherton
Sherman Labs
Martin Hitchcock
Anthony Daniels
Bob Keene
James Enright
Effects Associates
Pinewood Shepperton Group
Elstree Studios
Breakaway Props
Paul Gardener
Creation Workshop
Choccywoccydoodah
Fang Effects
Neil Gordon
Tomahawk Books
Framestore
Lee Took
Empire Magazine
Total Film
Animation Art Gallery
Sapex Scripts
A news feature on this museum can be found at the Telegraph website: Back in the picture with The Movieum
Jason De Bord