While this isn't an original prop-related article, I thought it was a neat piece and worth making a note of, especially since Tom Spina is an important figure in the hobby, as a driving force in preservation and restoration of props (see OPB Featured Interview).
Tom and Richard Riley of Tom Spina Designs created a really cool "one off" piece of functional film art – a desk designed and fabricated for the home theater/office of Mark Hall, lead singer of the Grammy Award-winning group Casting Crowns. The desk features the iconic Han Solo in Carbonite from Star Wars: The Empire Strikes Back.
This is how Tom described the work and process:
Created over the course of two months, the desk is composed of four main components: two internally-lit side panels, the iconic carbonite block and a glass work surface. The side panels feature computer-cut steel housings with tinted acrylic accents backlit by internal lighting. The carbonite section began life as a licensed Star Wars prop from the 90's, which was refit into a custom fabricated sheet steel housing and embellished with resin fan-created pieces cast from "found objects" such as an old car dash! The 1/2″ thick glass work surface is suspended over the desk's frozen prisoner with eight custom metal supports.

Immediately following its debut on the Tom Spina Designs website, the desk generated incredible interest on the internet. Within 24 hours, countless blogs and tech sites ran stories about the art piece and its geek chic appeal. Within 5 days, the company web site had over 70,000 page requests and over 3.25 million individual image requests.
The funny thing is, I didn't first learn of the project from Tom, but stumbled upon it at Gizmodo.com, and have been coming across links and news stories all week.
Today, it even received mention on G4TV's 'Attack of the Show', in the "Attack This: Calling All Nerds" segment hosted by Olivia Munn:
Here are some photos of the work itself: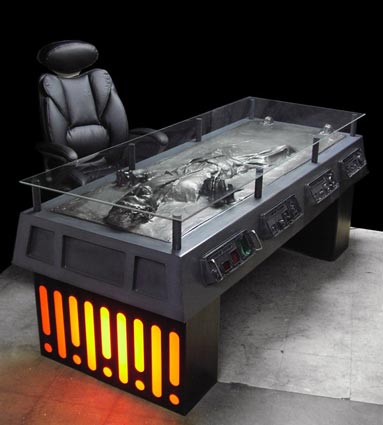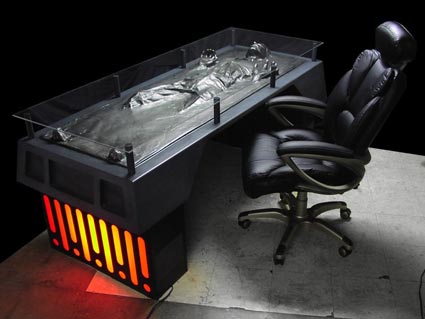 You can learn more at Tom Spina Designs: Furniture and Functional Art
I congratulate Tom on the success and interest in this very cool piece he and Richard have created.
Jason De Bord