Clothes Off Our Back has a series of charity auctions in support of The Children's Charity of Southern California. One of the highlights is Keira Knightly's green dress from Atonement (LINK to auction):

Own the green evening dress seen on Keira Knightley in Focus Features' Atonement. Memorably worn during the crucial emotional and romantic sequences by Ms. Knightley as Cecilia Tallis, opposite James McAvoy as Robbie Turner, the backless dress was taken directly from the production's archives and is one of a handful that was made specifically for Ms. Knightley to wear during filming. Multiples were fashioned because of the fragility of the dress. The dress being auctioned off was made under the supervision of, and has been authenticated by, Jacqueline Durran, who is nominated for an Academy Award for her costume design of Atonement. (Note: Sketch not included with dress.)Proceeds from the auction benefit Variety – The Children's Charity of Southern California.

For more on the extraordinary film Atonement visit www.FilmInFocus.com – a new place for movielovers.

Go to www.Bravotv.com for an exclusive interview with Keira Knightley talking about the fashions of Atonement and the famed green dress.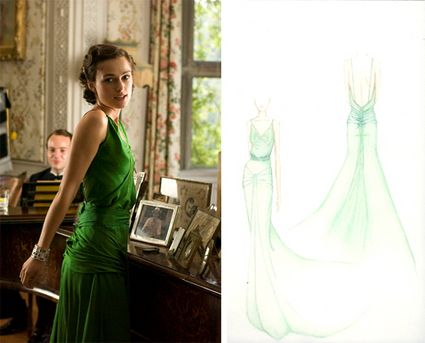 The opening bid amount is $1,000 (with an unstated reserve) and the auction is scheduled to end March 1, 2008.
You can learn more about Variety – The Children's Charity of Southern California at varietysocal.org.
Jason De Bord