As previously reported (see "Star Trek Collector Sues Christie's, CBS & Paramount Studios for $7 Million Dollars", "Star Trek Christie's Lawsuit Story, Fundamentals of Authenticity, & The Mainstream Media"), a collector is suing CBS and Paramount Studios and Christies for $7 million dollars, claiming that the pieces won at the 40 Years of Star Trek: The Collection auction event were "fake" or inauthentic.
Also, as explained, I recall and have notes at the time of my recollection of the Christie's auctioneer announcing an amendment to the Data poker visor before opening the lot for bids, as that was one of the few items I asked a friend of mine to place a bid for on my behalf. As such, I watched the live video feed over the Internet in real time.
While I've yet to see a clip of transcript of the video surface, Jason White from MoviePropKing.com, who attended the event in person, has located the hardcopy Christie's lot/description amendment sheet pertaining to the visor:

The update reads:
Please note this should read 'made for' and not worn by.
Thanks again to Jason for finding this document.
Full coverage of this story can be found on the Original Prop Blog series of articles (Auction Houses and Prop Dealers | Christie's | Christie's 'Star Trek' Lawsuit):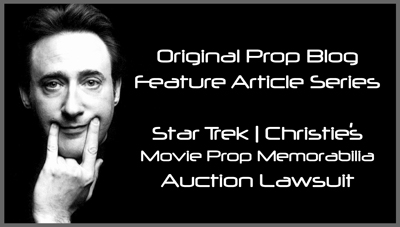 Jason De Bord