Per StarTrekTheTour.com, "an interactive, action-packed experience will feature exhibits from all five TV shows and each of the 10 movies" during a 40 city tour.

The tour will make it's North American debut on January 18th at the Queen Mary Dome in Long Beach, CA.
One of the original props on display is the NCC-1701-A shooting model: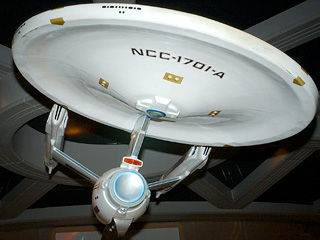 Here is the full press release from StarTrek.com:
STAR TREK® THE TOUR MAKES NORTH AMERICAN DEBUT JANUARY 18 AT THE QUEEN MARY DOME IN LONG BEACH, CALIF.
***
INTERACTIVE EXHIBIT LETS GUESTS EXPLORE THE STAR TREK UNIVERSE HANDS-ON WITH SHOW-BASED SIMULATORS AND MULTIMEDIA ATTRACTIONS, PLUS WORLD'S LARGEST COLLECTION OF STAR TREK SETS, COSTUMES & PROPS
***
WILLIAM SHATNER is Celebrity Ambassador
***
Tickets Go on Sale to Public December 15th
Exclusive Presale for American Express Card Members beginning December 7th

Los Angeles, CA – December 5, 2008 – SEE Touring Productions and Metropolitan Talent present STAR TREK THE TOUR, the largest interactive Star Trek exhibit ever, which makes its North American debut on January 18th for a limited engagement at the Queen Mary Dome in Long Beach, Calif.

This unprecedented event will give the public the opportunity to step inside the Star Trek world and become active participants in the legacy that has captured the imagination of generations: From the chance to sit on a starship bridge from the Original TV series to traveling through space on motion simulators, STAR TREK THE TOUR offers the whole family the opportunity to be fully immersed in the action. Plus, the Tour features the world's largest collection of authentic Star Trek ships, sets, costumes and props from all 5 TV series and 10 films over the last 40+ years.

William Shatner, who portrayed Star Trek's most iconic character, Captain James T. Kirk, is the official Celebrity Ambassador for the tour and will be making appearances at various times throughout the tour's multi-city run. "STAR TREK THE TOUR promises to be the largest, most interactive and entertaining Star Trek event ever presented to the public," Mr. Shatner said. "This will truly be an impressive experience for the whole family and I am happy to be associated with it."

Tickets will go on sale Friday, December 7th for American Express Cardholders and will be available to the general public beginning on December 15th. The tour lifts off in Long Beach, CA for a limited engagement, and will run through February 17. Following the Long Beach / Los Angeles engagement, the next 4 cities STAR TREK THE TOUR will visit are San Francisco, Minneapolis / St. Paul, Chicago, and Detroit.

Highlights of STAR TREK THE TOUR, which can be fully experienced with an accompanying audio tour, include:

The chance to take a ride through a Star Trek adventure in four full-motion, show-based flight simulators.
An all-new multimedia Encounter Theater, built like a theater in the round with 360 degree video screens. Computer-generated sequences put visitors in the middle of the Star Trek action.
The opportunity for exhibit-goers to sit on a full-size Enterprise bridge from the original TV series and have their photo taken and superimposed with an image of the original cast – including Spock, McCoy and Scotty – to look as if the Enterprise crew is standing right next to them.
Detailed recreations of original sets from Star Trek: The Next Generation®, including Captain Picard's quarters, Dr. Crusher's sick bay and the majestic NCC-1701-D Bridge.
The ability for guests to star with the original cast in an episode of their choice and watch themselves interact with Star Trek icons such as Spock and Scotty. Guests can take home a DVD of their cameo to share with family and friends.

The 50,000 square foot exhibition is equal in size to nearly two football fields filled with 250 tons of priceless Star Trek sets, original props, costumes and creations. STAR TREK THE TOUR brings together some of Hollywood's finest craftsmen and artists who created and shaped the signature look and image of Star Trek over the years, including production designer Herman Zimmerman, costume designer Robert Blackman, make-up artist Michael Westmore and visual effects creator Dan Curry. All of these original Star Trek artists lent their talents to STAR TREK THE TOUR to provide visitors with an authentic, behind-the-scenes view. Star Trek creator Gene Roddenberry's son, Eugene "Rod" Roddenberry, provides a rare insider's look at what it took to make his father's vision into reality as he narrates a tribute to the man who started it all.

"Years in the making, the creation of STAR TREK THE TOUR has been a voyage of discovery worthy of the show itself," explained Martin Biallas, CEO of SEE Touring Productions, Inc, which is producing the event. "Over the past 10 years, we secured privileged access to the vaults for the Star Trek TV shows and films, plucked select gems and tirelessly assembled the world's leading collection of priceless Star Trek sets, ships, props and costumes. Now, we're bringing Star Trek to life and inviting the public to experience it up-close-and-personal in a way never before possible."

"The universal appeal of STAR TREK THE TOUR is undeniable," explained John Scher, President of Metropolitan Talent. "It has something to offer for everyone — from 8-year-old children to 80-year-old grandparents, we have all grown up with Star Trek and watched it become one of the most beloved and popular series of all time. It has captured our imagination. Now, for the first time, we're turning fantasy into reality. We're pulling back the curtain to give the public an exclusive opportunity to step inside the Star Trek world for themselves."

STAR TREK THE TOUR, under a licensing agreement with CBS Consumer Products, is produced by SEE Touring Productions Inc. and presented by Metropolitan Talent Inc.

Tickets to STAR TREK THE TOUR will go on sale on December 7th during an exclusive 7-day pre-sale offer for American Express Cardholders. Beginning December 15th tickets will be available to the general public. Tickets can be purchased by calling 213-480-3232 or by logging onto www.ticketmaster.com or www.StarTrekTheTour.com. Tickets will be $30 for adults on weekdays and $35 on the weekends. Special pricing is available for children ages 12 and under — $16.50 weekday/ $17.50 weekend; for seniors 65+: $25 weekday / $30 weekend, and military personnel. Special prices available for groups of 15 or more. Visit www.ticketsforgroups.com or call 800.840.1157 for more information. Exclusive VIP and travel packages are also available at www.StarTrekTheTour.com. The show will be open 7 days a week, from 10AM – 8PM Monday–Friday and 10AM – 10PM on Saturday and Sunday. Weekday tickets will be in effect Monday – Friday at 5PM; weekend tickets will be in effect Friday at 6PM – Sunday.