Some additional information pertaining to this story reported last week (see "Elstree Props "Original" Return of the Jedi Lightsaber at Auction", "Elstree Props Return of the Jedi Lightsaber Auction – Update 1")…
Per a report on the Movie Prop Forum (see "ROTJ Lightsaber"), in addition to the Luke Skywalker Return of the Jedi lightsaber listed for sale with Specialist Auctions by Elstree Props, and the one on the Elstree Props website that appears to be a different version of the same prop (see comparison photos in Update 1 article), a hobbyist on the discussion forum claims that Elstree sold presumably a third Luke Skywalker Return of the Jedi lightsaber at a charity auction (I do not have any verification of this at this point). If this information and these observations are accurate, that would indicate Elstree Props has/had as many as three or more of these props.
By way of reference and accounting, what follows is a scan from "From Star Wars to Indiana Jones: The Best of the Lucasfilm Archives" by Mark Cotta Vaz and Shinja Hata: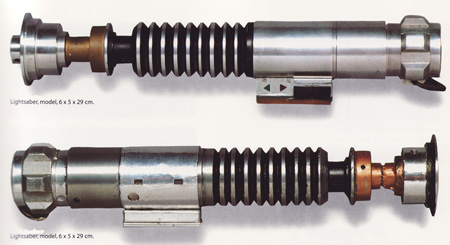 And again, for reference, the two Elstree Props Return of the Jedi lightsabers: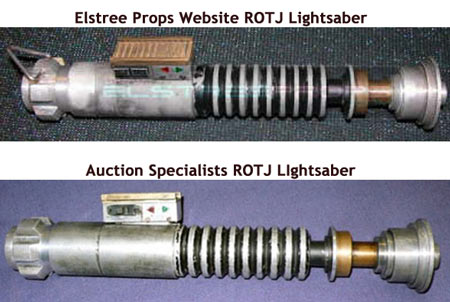 As reported in the news, here on the OPB (see "Original Lightsaber Prop from Star Wars to be Sent Into Space"), and on StarWars.com, one of the same style lightsabers from the Lucasfilm Archives is currently aboard the space shuttle Discovery and is set to launch on Tuesday from Nasa's Kennedy Center. Here is a photo of that lightsaber:

The NASA lightsbaber looks as though it might be the same as the one pictured at the bottom of the Lucasfilm Archives photo above (the one with the Graflex clamp).
Unrelated to the photos and number of ROTJ lightsabers "out there", there is a relevant article on the StarWarZ.com fan site, found HERE, that assembles a variety of information and testaments from various sources which support the theory that scenes were planned/filmed showing Luke constructing his new lightsaber. I would recommend reading the article in its entirety.
One relevant quote in this article is attributed to Paul Harrison of Elstree Props:
Luke's new saber for ROTJ was made from a rough sketch on a bit of paper by Ralph McQuarrie just saying add a bit, take a bit off, make some fins etc. Once we had one right we had to make two more as spares, but one accidentally got damaged and thrown in the scrap.
Though only two lines, assuming accurate only for the sake of discussion, some conclusions can be drawn.
Of interest is the phrasing "[o]nce we had one right", which implies that one or more were made that were not "right" (i.e. prototypes that were abandoned/not used/not filmed).
Also of note is that, of the three total that were "right", one was lost, leaving two "right", and an unknown number of specimens of alternate designs/prototypes.
As shown in the photos above of the two lightsabers in Elstree custody, they do differ from one another in a variety of ways (as well as from the two pictured as seen in the Lucasfilm Archives). Could one conclude that one or both are of the abandoned design (i.e. not "right")? Or that, if one is "right", would the other be an alternate or prototype by default? If so, how could one conclude which is the former and which is the latter, given that the footage from the scene in question, if truly filmed, is not available as reference?
And, if what the hobbyist on the Movie Prop Forum reports is true, and their were a third Elstree Props Return of the Jedi lightsaber auctioned previously, how can that be accounted for?
The more various scenarios are considered, even taking into account that this is a report from the owner of these props and may be incorrect, it does reveals a great many questions and unknowns.
Given the information available, I think both Elstree pieces would, in my personal opinion, fall under the "Inconclusive" category at this point – not proven "Authentic" nor "Inauthentic" – see articles, "Authenticity & Burden of Proof", "Authenticity & Burden of Proof, Part II: Inauthentic Props".
Taking into consideration the facts, opinions, evidence, observations, and conjecture in play, the Elstree Props lightsaber up for auction at Auction Specialists is in my opinion, at best, either an unused prototype or a prop that may or may not have been filmed for a scene that may or may not exist.
Of course, there is always the possibility that it was made some time after filming, not at the request of the production, and not for use in the production (which would make it a replica, not "Original").
As an example, below is a Certificate of Authenticity (COA) for a replica lightsaber produced and sold by Elstree which was recently offered for public resale (click image for higher resolution):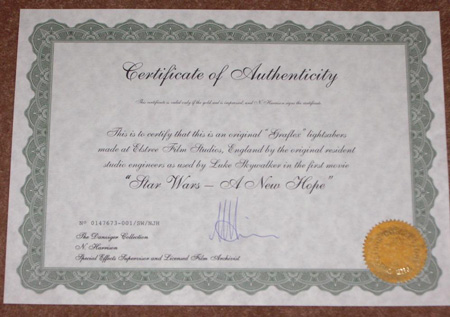 It reads:
This is to certify that this is an original "Graflex" lightsabers made at Elstree Film Studios, England by the original resident studio engineers as used by Luke Skywalker in the first movie "Star Wars – A New Hope".
I personally find that a novice in the hobby could easily be mislead to believe the item was an "Original" prop, given the way the document is drafted (i.e. "original", "as used by", etc.). But this was introduced into this article merely to establish that Elstree Props has produced replicas, following the release of these films, made by the same makers that resemble the original props.
In short, getting back to the prop offered at auction by Auction Specialists, it may or may not be "Original" (see What is "Original"?), but given public facts currently available, I personally cannot arrive at such a conclusion at this point, sans additional facts and provenance.
Jason De Bord