Premiere Props has begun a second, more substantive waves of their studio auctions for the film, Transformers, under the eBay User ID premiereprops7.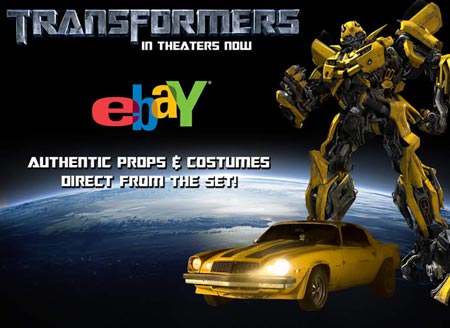 The most notable item listed thus far is eBay item # 200126643267, "TRANSFORMERS Bumblebee 1977 Chevy Camaro":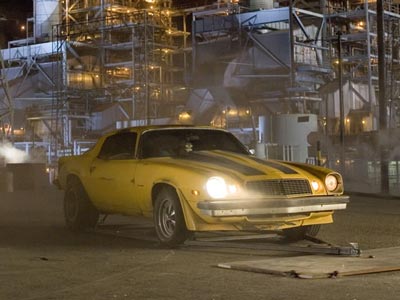 From the eBay listing description:
TRANSFORMERS

Screen Used Bumblebee 1977 Yellow Chevy Camaro

Here it is, the penultimate Transformers item! This is the real 1977 Yellow Chevy Camaro that appears onscreen as the
central character "Bumblebee" throughout the movie! This is Sam Witwicky's (Shia LaBeouf) first car and is one of the
important hero items in the film.

This is the end all be all of Transformers collectibles. The winner of this auction will own a truly unique and singular piece
of movie memorabilia. This vehicle is a completely interactive set piece from the film and will be the envy of movie
enthusiasts and Transformers fans everywhere!

Don't miss this once in a lifetime chance to own a piece of TRANSFORMERS history, a must-have
for the true fan!
In the first three hours of the auction, bidding is already at $7,400.
Of note, per Premiere Props:
All items include a Certificate of Authenticity signed by Premiere Props. All items come directly from the set of the film and are 100% guaranteed authentic. Premiere Props is the only authorized selling agent of the above referenced motion picture.
Also, according to the letter presented in these auctions, an undisclosed amount (reads as though it might be 100%) of the proceeds will go to the Fisher House™ Foundation. You can learn more about this organization at www.fisherhouse.org.
Jason De Bord