The Latest Articles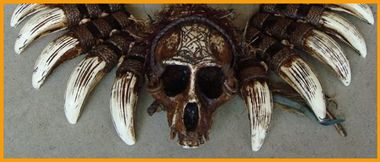 As per tradition at the close of each season, original props and artifacts from the long running reality television series, Survivor, are being offered at auction on eBay by Auction Cause, with proceeds benefiting charitable organizations. The auction began with last night's conclusion of this season – Caramoan: Fans vs Favorites – which revealed John Cochran to be the winner of the $1 million dollar prize. The auctions run through May 22nd and 100% of the proceeds will be split evenly between The Alliance for Children's Rights and Survivor Stand Up To Cancer.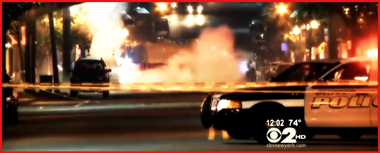 A movie prop vest that was part of an auction purchase of an assortment of items from a California storage locker, previously owned by someone who worked in the film industry.  The items were purchased by owners of a thrift shop in New Jersey, and upon finding the vest and activating it with a remote found with the lot, called the police in a panic.  Ultimately, law enforcement destroyed what was later believed to be a movie prop in the streets of New Jersey. Read the story »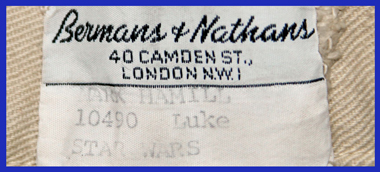 Nate D. Sanders will be concluding their next online auction on May 21st and the catalog for this event is available on their official site. Over 500 of nearly 700 lots is material associated with the children's television program, Captain Kangaroo.  One of the highlights on the sale is a pair of pants attributed to use by Mark Hamill as Luke Skywalker in Star Wars Episode IV: A New Hope.  Other items include a variety of Hollywood and historical memorabilia, including props, costumes, set pieces, awards, and other material. Read the story »

Below is the latest updated list of upcoming original movie and television prop, wardrobe, and memorabilia auction events. Please contact me if you are aware of any coming events of interest to collectors.
Please also note that I update changes/additions to the calendar until the next update, in order to maintain as up to date as possible. Read the story »

Continuing a long line of "screen used" Luke Skywalker prop lightsabers attributed to Star Wars Episode VI: Return of the Jedi with connections to Elstree Studios/Elstree Props/The Danziger Collection, yet another one has surfaced for sale on eBay.  Although there are photos of the prop and related documents and certificates of authenticity (COAs) from "Piece of the Stars Memorabilia" (a company I have never heard of before), of course the resolution of these images are limited to 500px × 375px (do cameras still exist today that shoot at such a low resolution?), rendering examination challenging, to say the least.  In the interests of public debate and discussion, Original Prop Blog has long documented the public sale offerings of other prop lightsabers attributed to Mark Hamill as Luke Skywalker in Return of the Jedi that have similar origins and associations, which can be found HERE. Read the story »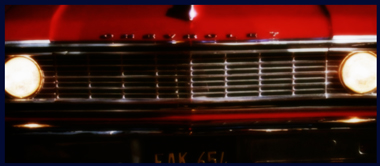 The cherry red 1964 Chevrolet Chevelle Malibu used by John Travolta's character in Quentin Tarantino's film, Pulp Fiction, was reported stolen back in 1994 during the production of the Academy Award-winning movie.  Featured in many scenes in the film, Vince Vega's car was recently found, per a report by The Sun. Read the story »

Auction Cause has listed a number of Hollywood memorabilia and experience auctions on eBay is support of The New Village Leadership Academy, all of which run through May 5th.  Included in the listings is an original suit worn by Will Smith in Men in Black 3 and one of his robes worn in Ali. Read the story »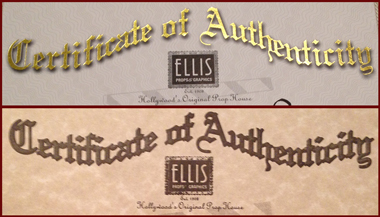 For reasons unknown to me, I continue to receive communications from recent buyers of memorabilia attributed to film and television productions, who believe I have something to do with various eBay sellers and/or Ellis Props (see article from one month ago today, "NOTICE: Original Prop Blog Does Not/Will Not Supply Props to Dealers "jnsmcmahan", "jsnent", John Tarter, Billie Null, Mark Sullivan, L.A. Prop & Wardrobe, Hollywood Prop Supply, Studio West Prop, Ellis Props, et al").  In any event, with one of these more recent contacts, I asked the buyer of one of these pieces to send me a photo of the Certificate of Authenticity (COA) supplied with the item purchased (in this case the COA provided was one that originally appears to be from Ellis Props).  A long time trusted collector in the field was kind enough to forward to me some images of confirmed legitimate examples of Ellis Props COAs obtained during the sales/liquidation circa '99/'00, and that COA is very different from the one just obtained by a buyer from a piece purchased on eBay.  Read the story »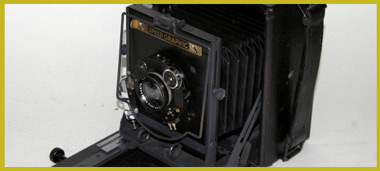 Mid-Hudson Auction Galleries will be holding their "Movie Star News Auction" April 6th and 7th in New York and via online bidding partner LiveAuctioneers.  The auction will consist of The Bettie Page Collection, Hollywood Icons, and The Movie Star News Collection.  An exhibition will be held tomorrow. Read the story »